After my two week break from blogging for school work last month, I wasn't expecting to be torn away again so soon and for so long. Thank you for staying subscribed even while Tombuntu seemed to be frozen in time.
A lot has happened in the Ubuntu world since my unexpected hiatus, but now I'm caught up again. Regular posts every weekday should resume this week.
Let's catch up on some of the recent news in Ubuntu that I've missed:
Ubuntu MID Edition 8.04 Released (June 24)
Ubuntu MID Edition 8.04 is a special distribution based on Ubuntu for Mobile Internet Devices (MIDs), small-screen handheld computers running Intel's Atom processor. Similarly to the Ubuntu Netbook Remix, Ubuntu MID is based on the standard Ubuntu desktop and includes many familiar applications optimized for MIDs and a touch interface.
You'll have a hard time finding a device capable of running Ubuntu MID right now, but you can run it in a virtual machine using the available KVM image.
Ubuntu 8.10 Alpha 1 and 2 Released (June 27, July 11)
The first two alpha testing releases of Ubuntu 8.10 "Intrepid Ibex", Alpha 1 and Alpha 2, have been released. Alpha 1 was released behind schedule, and neither release includes a live CD. The largest changes so far include updated and new packages from Debian, an updated Linux kernel, and the latest version of Xorg with updated graphics drivers.
A new theme is planned for Ubuntu 8.10. Alpha 1 also introduced a radical new dark look (screenshots). It's expected that several new themes will be tested in the alpha releases. However, there were no changes in the look between Alpha 1 and Alpha 2.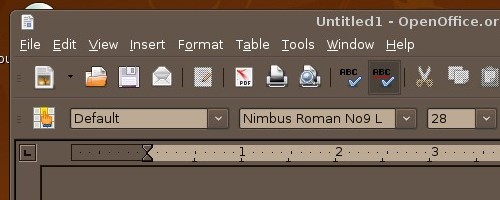 These are very early releases, don't use them on production systems! I haven't even been able to boot them in a virtual machine. The next alpha is expected on July 24.
Ubuntu 8.04.1 Released (July 3)
As a long term support release, Ubuntu 8.04 will receive four maintenance releases. Ubuntu 8.04.1 is simply a roll-up of updates since the initial release.

If you've been installing updates normally on Ubuntu 8.04 then you have already been updated. If you're doing a new installation you'll want to download a new CD.
These point releases are excellent to avoid downloading hundreds of updates on new Ubuntu machines. Among these updates is the final release of Firefox 3. Other important issues that are fixed are listed in the announcement.
Linux Kernel 2.6.26 Released (July 13)
Linux 2.6.26, the final version of the kernel included in Ubuntu 8.10, has been released.
2.6.26 adds support for read-only bind mounts, x86 PAT (Page Attribute Tables), PCI Express ASPM (Active State Power Management), ports of KVM to IA64, S390 and PPC, other KVM improvements including basic paravirtualization support, preliminary support of the future 802.11s wireless mesh standard, much improved webcam support thanks to a driver for UVC devices, a built-in memory tester, a kernel debugger, BDI statistics and parameters exposure in /sys/class/bdi, a new /proc/PID/mountinfo file for more accurate information about mounts, per-process securebits, device white-list for containers users, support for the OLPC, some new drivers and many small improvements
Ubuntu 8.04 uses the 2.6.24 kernel, unless you're an advanced user you should stay with the kernel supported by your version of Ubuntu.
Dell Updates to Ubuntu 8.04 (July 18)
It took Dell two months after the release of Ubuntu 7.10 to start shipping the new release. After a four month delay behind the release, they're now offering Ubuntu 8.04 on their open source line of systems.
Dell has added improved peripheral support, multimedia codecs, and support for ATI graphics options. This is all on top of the previous enhancements, including Adobe's Flash player and DVD playback software.
Archived Comments