Canonical has announced the Ubuntu Netbook Remix, a version of Ubuntu designed for small computers with Intel's new Atom processor. These include "netbooks" (small laptops such as the Asus Eee PC), and "MIDs" (small handheld computers).
Canonical has done some interesting things with the Remix. It's based on the default Ubuntu 8.04 desktop; the largest new feature is the new application launcher. This launcher covers the desktop and provides access to applications and files from a small screen.
There's a single GNOME panel at the top of the screen. It uses a modified window switcher to save space, and also acts as controls for maximized windows. See this page for more screenshots.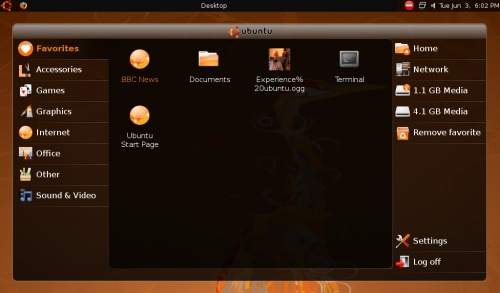 Ubuntu Netbook Remix will be available only to OEMs because Canonical has licensed proprietary media codecs and other software including Adobe Flash. I hope that there will be a freely available version to install on netbooks that don't come with it preinstalled. The press release says that the first devices with the Remix will be out "later in 2008".
So far there have been no netbooks announced to with the Ubuntu Netbook Remix, but I suspect that Dell will be offering it with their rumored mini-Inspiron.
[update] Instructions are available for installing the Remix without the licensed software on Ubuntu 8.04. Ars Technica has a closer look at the new interface.
Archived Comments