GNOME has launched an alpha of the GNOME Shell Extensions website. Like Firefox, GNOME Shell allows extensions to modify and extend the user interface. The site allows you to browse and install extensions written by third parties, but reviewed by GNOME before being made available. There are already many extensions to bring back elements of GNOME 2.
To try GNOME Shell Extensions, you'll need to be running GNOME 3.2. Ubuntu 11.10 only has GNOME 3.0, but the GNOME3 Team PPA provides packages to update it. I added this PPA on my netbook to updatemy existing GNOME Shell installation in Ubuntu 11.10.
Extensions are installed using a plugin, included with GNOME, that currently only works with Firefox. When it's working, an extension's page has a large switch to enable and disable the extension. Flip the switch, select Install in the confirmation dialog, and the extension almost immediately activates. Disabling an extension is just as easy. Here's the Applications Menu extension in action: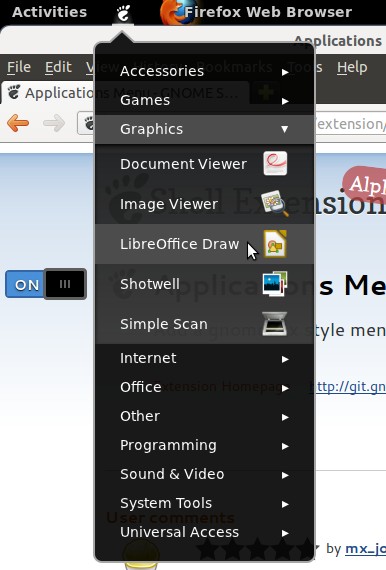 I'd like to see an extension that maximizes screen space on my netbook by hiding the title bar of maximized windows like Unity does.
Could GNOME Shell extensions become a killer feature for GNOME 3?
Archived Comments