Tired of finding and downloading packages for games, and having to check for updates youself? Playdeb is a software repository for the games available on GetDeb, who package recent games and applications for Ubuntu. With Playdeb, games are easy to install and will be updated when new versions are available.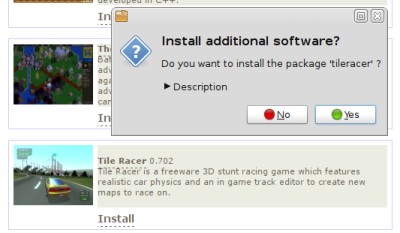 Playdeb includes an APT software repository, and a games list that can be used to install games simply by clicking an install link. The repository can be easily added by installing a DEB package. The install links in the games list require AptURL, which is standard in Ubuntu since 7.10, but Playdeb requires an updated version to be installed. A DEB package for this is also provided.
The Playdeb site has instructions for getting set up, follow the links to download and install the two packages.
Once you've finished, head to the games list. Pressing the Install link for a game will first reload the repository and then open a dialog asking if you want to install the game. Click Yes and the game will install.
The current Playdeb site is a prototype, and the list of games on the site is incomplete. I did have one issue: the first time I tried to install a game the package could not be found, clicking the install link again fixed it. Playdeb uses the updated AptURL to refresh the repositories before every installation. Playdeb is updated as regularly as GetDeb is, but is this needed? By default Ubuntu updates the repositories daily by itself.
Adding repositories may not be easy for new users. Early versions of AptURL included a feature for adding repositories that would have been very easy, but it was disabled for security. I think Playdeb's solution of offering a DEB package that adds the repository is ideal.
Playdeb is similar toLinspire's CRN, which also offers games. However, Playdeb's design is far superior; it doesn't conflict with Ubuntu's own repositories, is easier to set up, and uses the existing package manager.
I'm hoping to see more sites like Playdeb, offering other applications.
Archived Comments