Earlier this month Adobe released a Flash Player 10 release candidate (10.0.0.569) for Linux. Over the previous betas, this release has improvement performance, fixes bugs, better V4L2 camera input, and fixes fullscreen video playback.
It's not likely that Flash Player 10 RC will make it into Ubuntu 8.10 because of the feature freeze.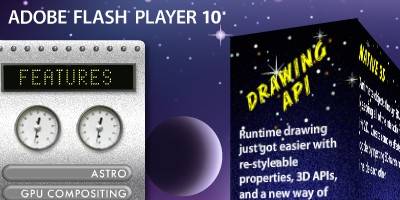 If you want to try the new Flash Player, first remove any previous versions if you manually installed them. If you installed it from the repositories this is not necessary because the new package will replace the old one.
I have found some packages of the RC available for Ubuntu 8.04 and 8.10. Here's a link to the download for Ubuntu 8.04 on i386.
Install the package and restart Firefox to start Flash 10 Beta.
I found the previous beta 2 release to be unusably slow and buggy. Fortunately, Adobe must have fixed the problem because this RC is working great! I can now play YouTube and even Vimeo HD videos fullscreen with Flash without any trouble.
The only issues I've had so far with some websites that can't yet correctly identify Flash Player 10, and Wordpress' Flash uploader.
If you do have trouble, downgrade back to Flash 9 by uninstalling the package and reinstalling from the official Ubuntu package:
sudo apt-get remove flashplugin-nonfree
sudo apt-get install flashplugin-nonfree

In other Flash news, this page, written by a Flash developer was linked to from Adobe's Linux Flash Player blog. It hints that Adobe has developed a 64-bit Flash Player for Linux and FreeBSD.
Archived Comments