Adobe has released Flash Player 10 Beta 2 (10.0.0.525) for Linux. On top of features from Beta 1, this Flash 10 release adds windowless mode (transparency and page elements on top of a Flash applet), better Linux webcam support, new languages, and speed/stability improvements.
Previously I tested the first beta of Flash 10 and was impressed by the new 3D features and performance. Here's an even easier way to test out Flash Player 10 Beta 2 in Ubuntu 8.04:
Remove any previous versions of Flash. If you installed it from the repositories, this is not necessary because the package you will be installing is a newer version. If you know you installed Flash manually, see Adobe's instructions for manual removal on Linux.
Flash 10 will be included in the upcoming Ubuntu 8.10 release, and has already been packaged. You can install this DEB package in Ubuntu 8.04 by downloading it manually. Download and install the DEB package from the page below; scroll down to the downloads section and select your CPU architecture and a mirror:
http://packages.ubuntu.com/intrepid/flashplugin-nonfree
Restart Firefox to load the new version of Flash.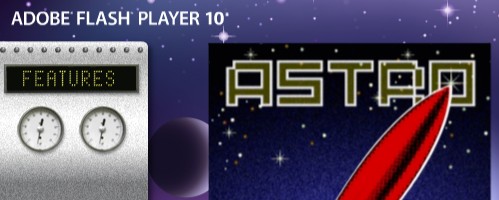 Flash 10 Beta 1 worked great, so I was surprised that this version is unusable for me. With Compiz desktop effects turned on, applets freeze up or slow down Firefox. With Compiz off, some graphical effects still stutter and Firefox will occasionally crash. I've also noticed some applets display blurry and with other visual bugs. Also, Flash 10 also is now unusably slow in my Ubuntu virtual machine.
Having problems and want to downgrade to Flash 9? Remove the new package, and install it again from the normal repository:
sudo apt-get remove flashplugin-nonfree
sudo apt-get install flashplugin-nonfree

How's Flash 10 Beta 2 working for you?
Archived Comments