[update] Adobe has released a new beta, this version is no longer available. See Test Drive Adobe Flash Player 10 Beta 2 in Ubuntu for updated instructions.
Adobe has released the Flash Player 10 Beta simultaneously for Linux, Mac, and Windows. This version includes performance improvements, new 3D transformations, Adobe Pixel Bender filters, streaming video improvements, and new text layout capabilities.
Websites very likely won't be taking advantage of these new features until the stable release is out, so Adobe has a page of demos you can try.
Two large complaints about Flash on Linux are fullscreen video and 64-bit support. Neither have been resolved in this release. Playback of fullscreen video (which causes low framerates and high CPU usage) seems to be only slightly improved. I have found that there is a general performance increase.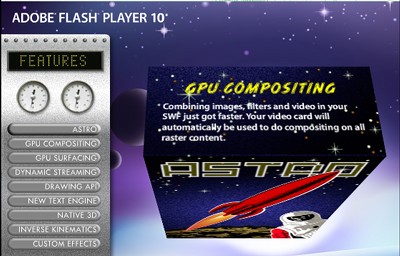 If you want to try Flash Player 10 you can download and install it yourself, but here are some terminal commands that you can copy and paste to get going quickly:
Remove your existing Flash plugin, if you have one installed. This command will remove Flash 9 if you installed it from Ubuntu's repository:

sudo apt-get remove flashplugin-nonfree


Download and extract the Flash Player 10 Beta to your home directory:

wget -O - http://download.macromedia.com/pub/labs/flashplayer10/flashplayer10_install_linux_051508.tar.gz | tar xz -C ~


The user plugins folder may not exist yet, try to create it but ignore any errors if the directory already exists:

mkdir ~/.mozilla/plugins/


Copy the Flash plugin the the Firefox plugins directory to install it:

cp ~/install_flash_player_10_linux/libflashplayer.so ~/.mozilla/plugins/libflashplayer.so


Remove the directory that was downloaded (if you get a warning about deleting a write-protected file, press y and Enter to continue):

rm -r ~/install_flash_player_10_linux

Restart Firefox to enable the new plugin.
And here's how to uninstall it:
Remove the new plugin:

rm ~/.mozilla/plugins/libflashplayer.so


Reinstall Flash 9 from the repositories (if you wish):

sudo apt-get install flashplugin-nonfree

[update] I've been using the Flash 10 plugin for over a week now, and the only issue I've had is the occasional website that thinks my version of Flash is too old.
Archived Comments