Over the weekend I played more with Compiz 0.7.6 on Ubuntu. Here's two more cool new plugins and how to set them up.
Reader Exsecrabilus requested that I write about the unique new StackSwitch window switcher for Compiz. StackSwitch tilts your desktop and windows down like a table, and flips up the selected window.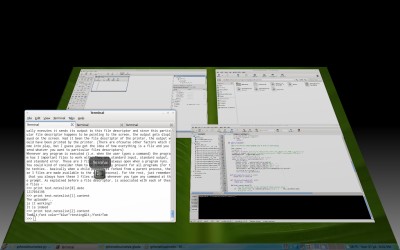 StackSwitch isn't a challenge to install. If you've followed my previous instructions on upgrading Ubuntu's Compiz, it's included the repository.
Install StackSwitch from the package stackswitch (click the link to install), or by running the command below in your terminal:
sudo apt-get install stackswitch

Open System->Preferences->CompizConfig Settings Manager. Find and enable the plugin Stack Window Switcher. The switcher can be activated by pressing Super-Tab, or Super-Alt-Tab to show windows from all workspaces. (The super key is also known as the Windows key.)
The second new Compiz plugin I've been playing with is the wallpaper plugin. As the name suggests, it draws desktop wallpaper. The attraction of drawing wallpaper with this plugin is that it supports different wallpaper for different workspaces.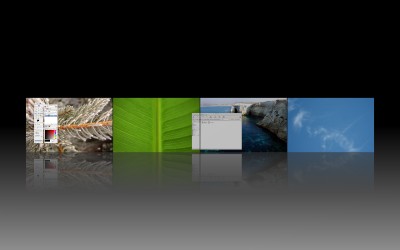 If you simply enable the wallpaper plugin and set up your images, nothing will change. This is because GNOME's Nautilus is already drawing your wallpaper along with your desktop icons. Unfortunately, you'll have to give up desktop icons to use this plugin because Nautilus can't draw icons onto a transparent background. This is planned to be fixed in the next version of GNOME and Ubuntu.
We need to change a Gconf key to stop Nautilus from managing the desktop. Launch the Run Application dialog with Alt-F2 and run gconf-editor. Navigate to apps->nautilus->preferences and unselect the show_desktop option. Your desktop icons should disappear.
Open System->Preferences->CompizConfig Settings Manager. Find and enable the Wallpaper plugin, and configure it with a wallpaper image for each of your workspaces. You can use the up and down buttons to set which workspace gets which wallpaper.
If you'd like unique wallpapers for each workspace and are not a Compiz user, give Wallpapoz (DEB package) a try. Wallpapoz functions by detecting whenever you switch workspaces, and changing the wallpaper whenever you do so. This way, it can work even with Nautilus desktop icons. I wouldn't recommend Wallpapoz with Compiz however, any 3D effects showing more than one workspace will show you a single wallpaper.
Archived Comments