Google has released a platform for running their widget applications (Google Desktop Gadgets and web-based Universal Gadgets) on Linux. Google Gadgets for Linux is an open source project, and includes front-ends for GNOME and KDE environments.
Google Gadgets for Linux provides the largest missing feature from the Linux version of Google Desktop, which includes gadgets only in the Windows and Mac OS versions.
Compiz desktop effects or another compositing window manager are recommended for running Google Gadgets. Note that Google Gadgets is still in a development stage. You may also be interested in Screenlets, which can also run Google's universal gadgets.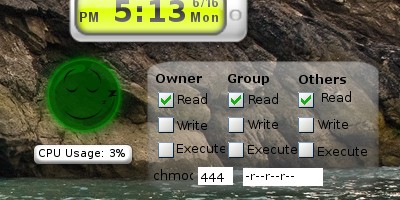 Install Google Gadgets from GetDeb
GetDeb.net has an Ubuntu package of the latest version of Google Gadgets. Download the package, and double click the file to open the installer.
Install Google Gadgets from repository
An unofficial repository for Google Gadgets is available. Unfortunately, this repository has not been updated at the time of writing to the latest version (0.9.3) of Google Gadgets, which includes some important fixes. I'll leave these instructions here also for when the repository is updated.
Open System->Administration->Software Sources, and select the Third-Party Software tab. Click Add, and paste in this repository entry:
deb http://ppa.launchpad.net/googlegadgets/ubuntu hardy main

Close the Software Sources dialog and when prompted, reload the software repositories.
Install Google Gadgets for Linux from the package google-gadgets (click the link to install), or by running the command below in your terminal:
sudo apt-get install google-gadgets

Running Google Gadgets for Linux
You can run Google Gadgets from the Run Application dialog (Alt-F2), or from the terminal with this command:
ggl-gtk -ns

The -ns option disables the sidebar, which I have found to work very poorly. Remove this option from the command if you want the sidebar.
Once Google Gadgets is running, you can control it from the notification area icon. Right click on it and select Add Gadgets to get started adding Gadgets to your desktop.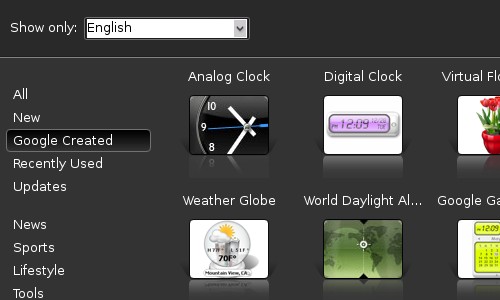 Start Google Gadgets Automatically
To start Google Gadgets when you log in, open System->Preferences->Sessions. Click Add and create a new item for Google Gadgets with the command ggl-gtk.
Compiz Widget Layer integration
Just like with Screenlets, you can use Compiz's Widget Layer plugin to get an effect similar to Mac OS' dashboard. You will need to have the Advanced Desktop Effects Settings tool (CCSM) installed, and be using the custom desktop effects level.
Launch System->Preferences->Advanced Desktop Effects Settings. Enable the Widget Layer plugin, and enter its preferences screen. Select the Behavior tab, and type the following into the Widget Windows text box:
class=Ggl-gtk

Your gadgets should now be hidden. Press F9 to toggle the widget layer to show and hide them.
Archived Comments