KDE 4, Windows, and Mac OS all have some sort of desktop widgets. Your Ubuntu desktop can also, using Screenlets. This post will guide you through installing and using Screenlets on Ubuntu 7.10 and 8.04.
[update] I've made some updates to this post on April 7 for version 0.1 of Screenlets.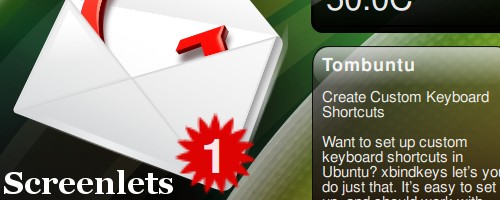 Installing Screenlets
You can keep up-to-date with the latest version of Screenlets by installing it through the repository.
Open your sources.list file to add the repository:
sudo gedit /etc/apt/sources.list

Add this line to the end of the file (for Ubuntu 7.10):
deb http://ppa.launchpad.net/gilir/ubuntu gutsy main universe

Add this line to the end of the file (for Ubuntu 8.04):
deb http://ppa.launchpad.net/gilir/ubuntu hardy main universe

Save and close the text editor. Run this command to update apt:
sudo apt-get update

Install the Screenlets package:
sudo apt-get install screenlets

The package python-feedparser may also be required if it is not already installed:
sudo apt-get install python-feedparser

If starting the Screenlets Manager nags you that Gtkmozembed needs to be installed, some Screenlets may not work. Run this command to fix it:
sudo apt-get install python-gnome2-extras

Press y and enter to accept installing the package without verification.
Alternate install method
As of March 17, the Screenlets repository has not been updated to the latest release (0.0.14). You can also install from the GetDeb.net package, if you are using Ubuntu 7.10. Simply download and double-click the package to install it.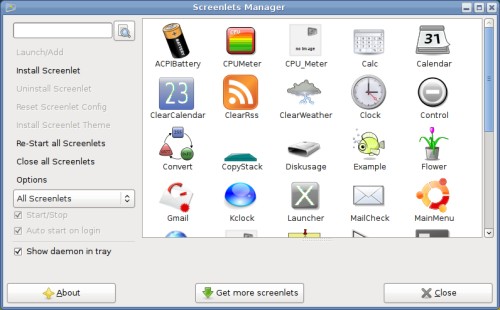 Getting started with Screenlets
The Screenlets manager can be started from the System->Preferences->Screenlets menu item. If it's not there, you may find it in Applications->Accessories->Screenlets.
As you will see in the Screenlets Manager, the default installation includes a lot of Screenlets. Start a Screenlet by selecting it in the list and clicking the Launch/Add button. If you like the Screenlet, select the Auto start on login box to have it launch automatically. Close a Screenlet by unselecting the Start/Stop box.
Here's a few of the Screenlets that I like:
Gmail: a Gmail account checker.
CPUMeter: simple CPU monitor with a few themes.
ClearRSS: RSS feed reader.
Sensors: monitors computer sensors with graph, it was able to watch my Nvidia GPU temperature.
Positioning and configuring Screenlets.
Click and drag to move a Screenlet around the screen. Right-click on a Screenlet to open the configuration menu; from here you can change some settings common to all Screenlets. The Window submenu contains a two useful options that you will likely want to select:
Window->Sticky: sticks to all workspaces.
Window->Lock: locks the position on the screen.
In the same right-click menu, click Properties to open the complete configuration dialog, which also has Screenlet-specific options.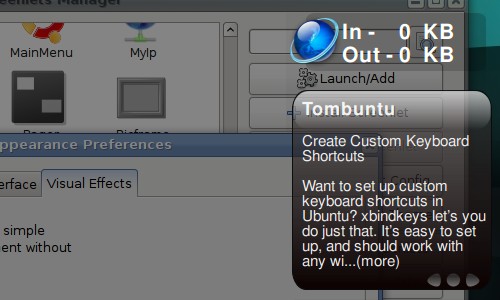 Mac OS X Dashboard style
Compiz's Widget Layer plugin can be used with Screenlets to achieve an effect similar to the dashboard in Mac OS X. Your Screenlets will only be visible by activating a view that dims the desktop and displays the Screenlets on top of everything else.
In the Appearance Preferences dialog (System->Preferences->Appearance), open the Visual Effects tab and switch to the Custom effects level. If this option is not available, you need to install CompizConfig Settings Manager (CCSM) first:
sudo apt-get install compizconfig-settings-manager

Now, open CCSM by clicking the Preferences button. Find the Widget Layer plugin and select the box to turn it on.
For all the Screenlets you want on the Widget Layer, open their right-click menus and select Window->Widget. The Screenlet will disappear from your desktop. Press the default Widget Layer key, F9, to dim the desktop and display your widgets.
Get more Screenlets
The Get more Screenlets button in the Screenlets Manager opens Firefox to a website that no longer exists. Here you can download new Screenlets. Also, GNOME-Look.org has a Screenlets category with a large selection. Installation couldn't be easier; drag and drop a downloaded Screenlet tar.gz file into the Screenlets Manager window.
Google Gadgets and Web Widgets
I've written a separate post explaining how you can run Google Gadgets and Web Widgets on Your Desktop with Screenlets.
Enjoy your Screenlets!
Archived Comments