Around the time of the release of Ubuntu 7.10, I tried out the Gnash Flash player included in that release. Because Adobe's Flash player can not be redistributed in the default Ubuntu installation, a choice of players are offered when you visit a page in Firefox with Flash content. There are three options in Ubuntu 8.04: Adobe Flash, Swfdec (new to this version), and Gnash.
Gnash is an open source alternative to Abobe's proprietary Flash player. It has support for the older SWF v7 Flash format and SWF 8 and 9 are in development. Gnash is part of the GNU project.
Swfdec is a similar project licensed under the LGPL.
I started both of my tests by browsing to a YouTube video page. Firefox would prompt me here to install a plugin to view the video.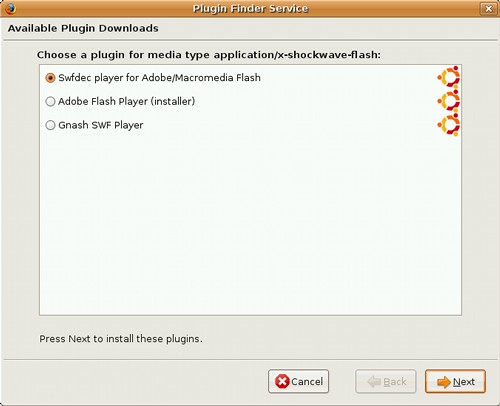 I think that Adobe's Flash should be set as the default in Firefox's plugin finder to avoid confusing new users. The advantages and disadvantages of each player should be made clear.
I started with the default selection, Swfdec. The installation went by without any trouble and the current page was automatically refreshed. The first thing I noticed about Swfdec was that any Flash applets have to be clicked before they run, which a nice feature.
Immediately after clicking to play the YouTube video, Firefox prompted me to search for a suitable codec. I selected to install all of the offered packages. After the quick install, the YouTube video and sound played flawlessly. The video controls all worked, with the exception of the volume meter which did nothing.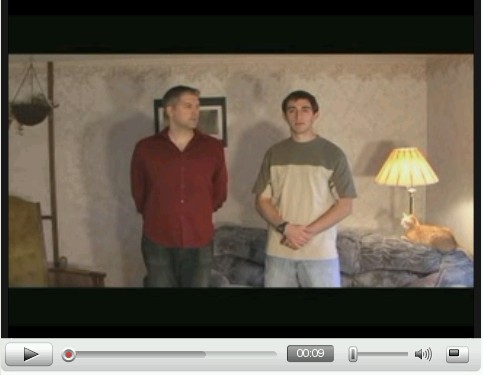 Video site number two, Vimeo, didn't work so well. Playing a video resulted in a no video found error. You'll have the most luck with the most popular video sites that the developers have focused on. Simple menus and banners worked fine, but I couldn't find any games that worked.
Next, I installed Gnash the same way. Again, the page refreshed and Gnash tried to play the YouTube video. However, Gnash couldn't play any video and couldn't even render the YouTube player properly.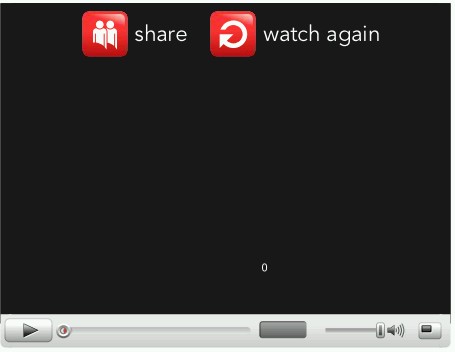 Vimeo videos rendered as a gray box with no error. The only Flash content I was able to get working with Gnash was some simple animations and menus.
Swfdec is clearly ahead of Gnash at the moment, but most Linux users are still not going to be interested in either; they don't support most of the Flash content on the web. However, for users who don't have Flash support on their CPU architecture, or want a completely open source desktop, these options are still useful. They'll get you by on sites using Flash for navigation, and even for basic Flash video on major sites.
Adobe recently removed the restrictions on use of the Flash SWF file specifications as well as the licensing fees. The Swfdec developers so far have said that the new specifications aren't too important, but it's good now that the legality of their work is sorted out. Hopefully now the developers of these two projects can concentrate on building an excellent open source Flash player.
Archived Comments