Previously I've written about Gimmie, a desktop organizer and panel for GNOME designed to allow easy interaction with the things you use on your computer. Some of it's developershave forked the project, and created Mayanna. It's a young project, so I had to compile from source to try it out. Here's a look at Mayanna revision 23, read on to the end of the post if you are interested in compiling it yourself.
The Mayanna panel is divided into four topics (tabs): System, Programs, Library, and People.

The System topic is basically a combination of GNOME's traditional Places and System menus; you have access to your folders, network, devices, preferences, and administration items.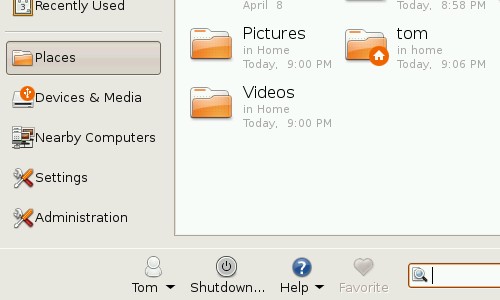 The Programs topic lists your applications by their categories, just like GNOME's Application menu. The handy search box lets you immediately start typing the name of an application to filter the view.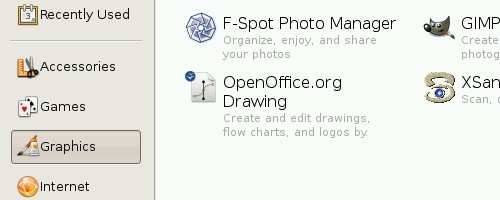 The Library topic is where things start to get interesting. This is where you access your files. There are two sections, local and Internet. In the local section you can access the contents of some of the default folders in your home and your Tomboy notes. Under Internet, you have Delicious Links, Flickr Photos, Google Docs, Picasa Photos, and YouTube Videos.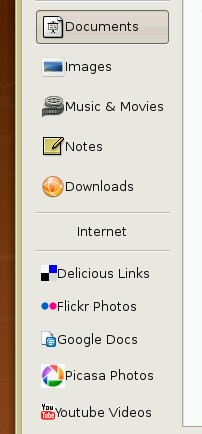 The People topic is all about your contacts. You can view your Evolution contacts, as well as Gmail contacts by logging in.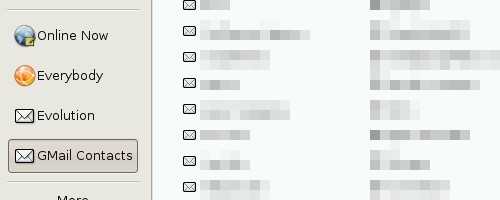 Across all the topics, there are search boxes, as well as recently used items. One downside of Mayanna is the size of the menus, the Library topic doesn't fit on the screen on my virtual machine. It would be nice if it were possible to pick and choose which items to use in the Library topic.
Currently there are no packages available for Mayanna. Feeling adventuresome? You can compile Mayanna from source. These instructions are based on the ones on the wiki page, and worked for me on Ubuntu 8.04.
Compiled software before? If not, you may not have the basics installed:
sudo apt-get install build-essential subversion

Install some dependencies for compiling and installing Mayanna:
sudo apt-get install libgtk2.0-dev python-gtk2-dev libgnome-menu-dev libgconf2-dev python-evolution python-libgmail gnome-common

Download and install this package (Ubuntu 8.04 only) from the website:
wget http://mayanna.googlecode.com/files/python-gdata_1.0.11.1-1%7Eppa1_all.deb
sudo dpkg -i python-gdata_1.0.11.1-1~ppa1_all.deb

Download the latest source using SVN:
svn checkout http://mayanna.googlecode.com/svn/trunk/ mayanna-read-only

Compile:
cd mayanna-read-only/
./autogen.sh --prefix=/usr
make
sudo make install

Once the installation is finished, start Mayanna by adding it to your GNOME panel.
[update]
Run this command to uninstall Mayanna:
sudo make uninstall

Then you can delete the mayanna-read-only folder in your home folder. It will be removed from the applets listing next time you log in (or restart GNOME-Panel.)
Archived Comments