[update] You may also be interested in Mayanna, the successor to Gimmie.
Gimmie is a unique desktop organizer and panel replacement for the GNOME desktop environment. The easiest way is to use Gimmie is as a panel applet in the GNOME panel, but there is also a stand-alone version as well. Gimmie is even being considered for the next version of GNOME.
In Ubuntu 7.10, the Gimmie panel applet is very simple to install. [update: Whoops, an slightly older version of Gimmie is also available in Ubuntu 7.04.] Open a terminal and use this apt-get command to install it:
sudo apt-get install gimmie

Gimmie will then be available to add to your panel. Right click on an empty space on your GNOME panel and click "Add to Panel…" to open the applet browser. Find Gimmie under the utilities section, select it, and click "Add".
Gimmie is composed of 4 topics (menus): Linux, Programs, Library, and People.

The Linux topic is close to what you would think of as a typical main menu. You can launch your favorite applications, open recent files, view places & devices, and log out.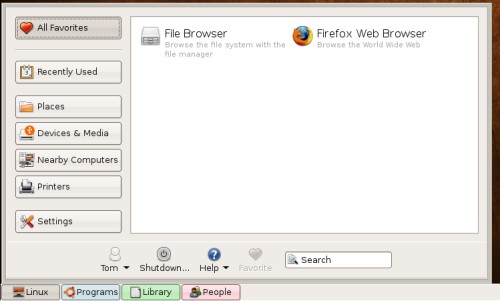 The Programs topic is a list of all your applications. Buttons on the side allow you to view your different categories.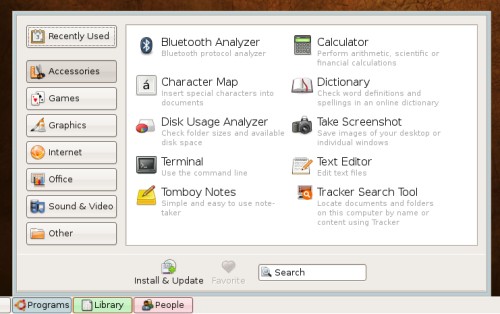 The Library topic is used for getting quick access to your files. You can view your recent files, documents, notes, media, and downloads. One feature is development is Google Docs integration, that could switch me to Gimmie alone.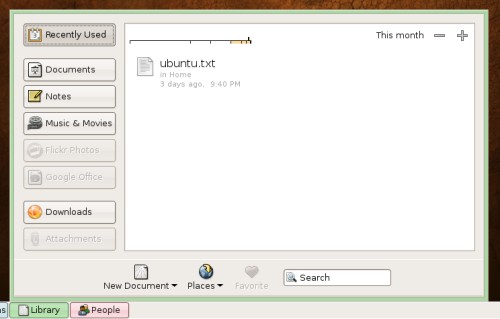 The People topic provides simple instant messaging capabilities.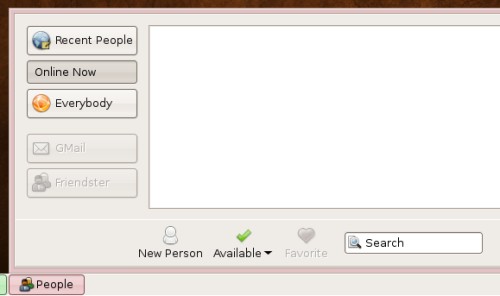 Once the final Ubuntu 7.10 is released I will definitely try using Gimmie full time. The future Google Docs integration is very cool, integration with web services will be very appealing as more and more people switch to online applications like Goggle Docs. To see were Gimmie is heading, take a look at their roadmap.
Archived Comments