Want to share files between Windows and Linux on your dual-boot system? Using some free software you can read and write to your Linux partitions from XP or Vista. Here's an overview of four programs that I found. (I've written about some of these in the past: here and here.
First, a note about file systems. Most Linux users will have Ext3 partition. The difference between Ext3 and Ext2 is journaling support, which increases the filesystem's ability to recover from errors. None of these programs support journaling, but they will work with Ext3 partitions just file.
Use Windows software that writes to your Linux partition with care. Don't do it unless you have backups and accept the risk.
Linux Reader
http://www.diskinternals.com/linux-reader/
Closed source, free
Reading only
The first thing you will notice is that Linux Reader is designed to look like Windows XP's file manager, which isn't desirable on Vista. Opening a partition is as easy as double clicking it. The program seems to support drag-and-drop copying files to Windows, but I got an error when doing so. The other way is to right click on a file, select Save, and go through the wizard to save the file. Linux Reader has a undelete feature that I didn't test.
Linux Reader took 18 seconds to transfer my 50 MB test file.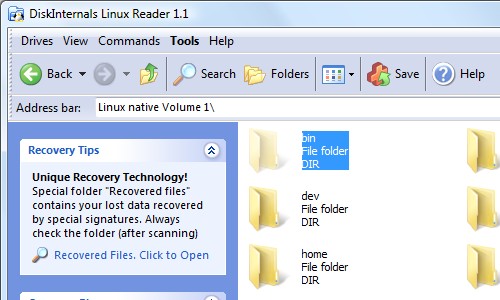 Ext2 IFS
Closed source, free
Reading and writing
During the installer, you assign drive letters to your Ext3 partitions. Once the install is finished, the partitions are immediately available. Reading and writing worked seamlessly from all the Windows applications I tried.
I was pleased to see that Linux's hidden files (beginning with a dot) were hidden by Ext2 IFS. This makes navigating my home directory much easier.
Ext2 IFS took 2 seconds to transfer my 50 MB test file. The massive speed advantage over Linux Reader is probably due to Ext2 IFS being a kernel driver.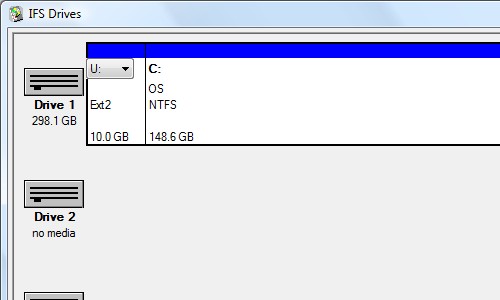 Explore2fs
http://www.chrysocome.net/explore2fs
Open source, free
Reading only
Explore2fs is a stand-alone program that requires no installation. I couldn't test it on my system because it didn't detect any partitions. Windows Vista doesn't seem to be supported.
Ext2fsd
Open source, free
Reading and writing
Ext2fsd is also not compatible with Vista. It works similarly to Ext2 IFS in providing Windows drive letters. I do remember from using it in XP that it's not as simple to set up as Ext2IFS.
Conclusion
If you're using Windows Vista, Ext2 IFS is the best solution whether you need write support or not. It's much dramatically faster than Linux Reader, and the integration with Windows is excellent. If you don't need write support, be sure to turn it off when asked in the installer, just to not take unnecessary risks.
On XP, the best option for read only or write support is still Ext2 IFS for it's speed and easy use. However, the open source Ext2fsd is also an option.
Archived Comments