[update] I've writtenan updated version of this post.
Currently I am using a large FAT32 partition for sharing files between Ubuntu and Windows. I would like to keep everything in a large Ext3 home partition. The problem is that Windows does not support any Linux file systems. I tested two programs that fix this by adding an Ext3 driver to Windows XP.
Ext2Fsd is an open source driver for Ext file systems that works in many versions of Windows. The "Ext2 Volume Manager" allows mount points to be set. I right clicked on my home partition and clicked mount. It was then mounted it to the L drive letter. However, Windows saw the file system type as raw and offered to format it. Ext2Fsd did not work at all for me.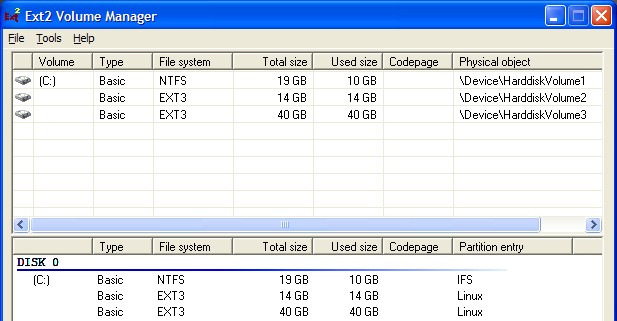 After uninstalling Ext2Fsd and rebooting I tried Ext2 IFS. Ext2 IFS is not open source but is freeware. During the install a diagram of my hard disk let me assign a drive letter to my home partition.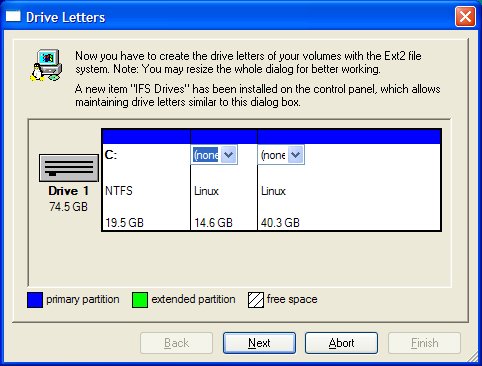 It works! My Ext3-formatted home partition works seamlessly in Windows. Programs are able to run off the partition and save to it with no trouble, and the speed feels the same as using NTFS. My only problems with it are that it is case-insensitive, and that dot files that are hidden in Linux have no way to be hidden in Windows.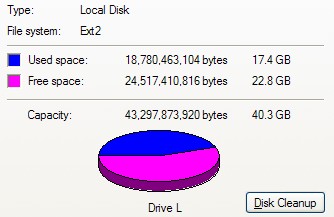 Ext2 IFS looks like an excellent way to use Ext3 as a cross-OS file system. I will continue to use it in Windows XP, but it is not supported in Windows Vista. This means that I will have to continue searching for a solution that will work with my new computer that will have Vista.
Archived Comments