If you have KDE 4.0 installed on Ubuntu, running an update should install the newly released KDE 4.0.1 packages. I've found them to be a good improvement over the initial release.
KDE 4.0.1 is a maintenance release which provides corrections of problems reported using the KDE bug tracking system and enhanced support for existing and new translations.
Wondering what's new in KDE 4.0.1 on Ubuntu? Here's what I noticed after updating:
There are now separate buttons for rotating and resizing Plasma widgets. Holding CTRL while using the resize button on a widget will let you change the aspect ratio. Finally I can have make my task switcher rectangular and wide instead of square.

Plasma widgets are much better at detecting when the mouse is hovering over them, but it's still not perfect. I'll still be locking the widgets.
KDE's Favorites menu does not work, all of the entries are broken.
Some missing icons are now fixed.
I'm no longer getting errors opening files in Dolphin.
The Plasma menu in the top-right corner seems to be themeable now.
Some more options for KWin compositing are available in System Settings.
The clock widget doesn't seem to have an option to display 12-hour time anymore.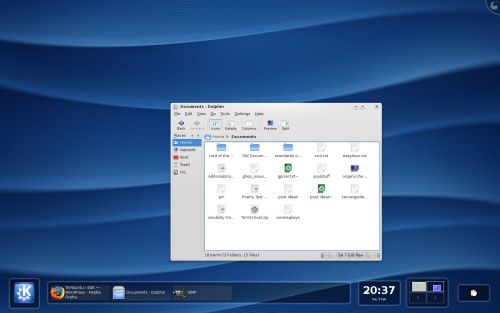 I'll be back using KDE for a while, so I'll update this list if I find any more significant improvements or bugs. Can someone tell me if the resizable panel made it into KDE 4.0.1 on Ubuntu? I can't tell because I have the panel removed.
So far, KDE 4.0.1 has fixed some of my largest problems with using KDE 4.0. How's everyone else liking it?
Archived Comments