An updated how-to is now available.
Screenlets are themed mini-applications programmed in Python. They are comparable to the widgets in OSX and Windows. Screenlets are drawn with vector graphics and nice transparency effects, and therefore need a compositing window manager like Compiz. This post will guide you through installing Screenlets and setting them up with Compiz Fusion to work similarly to widgets in Apple's OSX.
Screenlets are available in both Ubuntu Feisty and Edgy. Add the line to your /etc/apt/sources.list file that corresponds to your version of Ubuntu.
Feisty (Ubuntu 7.04):
deb http://hendrik.kaju.pri.ee/ubuntu feisty screenlets

Edgy (Ubuntu 6.10):
deb http://hendrik.kaju.pri.ee/ubuntu edgy screenlets

You must run this command to authenticate the new repository:
wget http://hendrik.kaju.pri.ee/ubuntu/hendrikkaju.gpg -O- | sudo apt-key add -

Update the repositories and install the screenlets package:
sudo apt-get update
sudo apt-get install screenlets

In order to get Screenlets to run properly I had to create two folders for it. Use these commands to create the folders:
mkdir ~/.config/Screenlets
mkdir ~/.config/autostart

To set up up your Screenlets, run screenlets-manager. The manager allows you to add any screenlets you like to your desktop. Right click on a Screenlet to set its size, theme, and other properties. To make a Screenlet start when you log in, check the box "Automatically start on login" in the manager.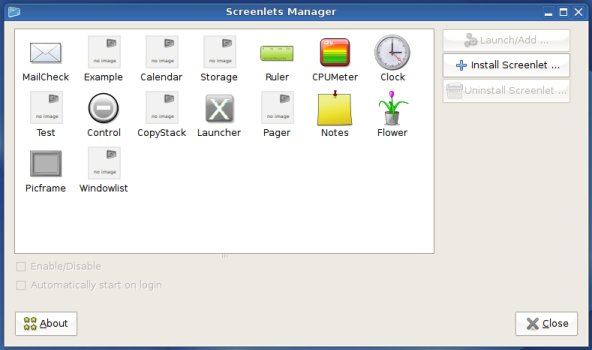 You can archive an OSX-like Dashboard effect using the Widget Layer plugin in Compiz Fusion. In the CCSM, enable the "Widget Layer" plugin and edit its options. Under the behavior tab, add screenletsd to the "Widget Windows" box. Your Screenlets should then disappear but toggle on and off with the F9 key.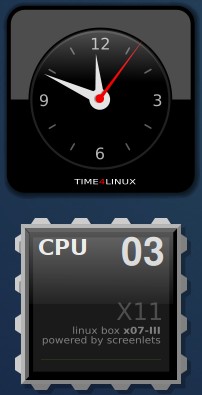 Enjoy your new Screenlets!
Archived Comments