Ubuntu 11.04 "Natty Narwhal" has been released. The introduction of the Unity desktop environment is a huge change in this release. Other changes include Firefox being updated to version 4, the Banshee media player replacing Rhythmbox, and improvements to the Software Center. Check out the release notes for more details.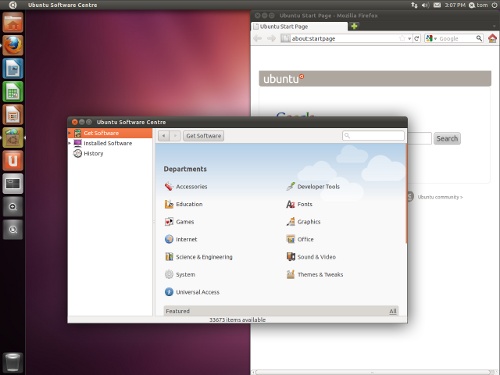 More about Unity
The what's new page for this release is dedicated to introducing the new Unity desktop environment. In past releases, Unity was the netbook-friendly interface. Now that Unity is suitable to both large and small screen sizes, the netbook edition of Ubuntu is no longer needed and has been retired. Although Unity looks similar to the recently released GNOME 3, it has been rewritten as a Compiz plugin rather than using GNOME 3's Mutter window manager.
The "classic" Ubuntu interface is still available as an option on the login screen. This also functions as a fallback when 3D acceleration is not available. However, in future releases this will be replaced with a 2D Unity desktop. I doubt that the classic interface will be available much longer now that GNOME 3 has superseded GNOME 2.
I'm a big fan of Unity on my netbook, but have yet to discover how well it will work out on my big monitor. I've used GNOME Do or Synapse to launch applications for a long time. I'm happy that the Unity dash implements this functionality: press super key, type the first few letters of what I want, press enter to launch. The new window grid functionality is fantastic. You can maximize or split-maximize windows by dragging them to the top or edges of the screen. Pressing control alt and a numpad key allows more complex layouts to be created.
One thing that bothers me about Unity is the lack of consistency in scrollbars. Most applications use fancy new-style scrollbars. Some applications still use the old scrollbars (Firefox) or draw their own scroll bars (Chrome). Terminal uses a black variant of the old scrollbars, and the Unity dash draws it's own yet different scrollbars.
I'd recommended reading some documentation in order to get up and running with Unity quickly, and to discover the advanced features. Try OMG! Ubuntu!'s guide, The Power User's Guide to Unity, and Unity keyboard/mouse shortcuts.
Archived Comments