Today was a big day for Ubuntu, with Canonical announcing the Unity desktop environment, Ubuntu Light, and more details about Ubuntu 10.10 "Maverick Meerkat".
Unity is a new desktop environment designed for netbooks and touch-screen devices. It includes a new panel as well as a new vertical launcher. Unity is build using technologies from GNOME 3, including the Clutter library and the Mutter window manager.
Ubuntu Light is a version of Ubuntu designed to dual-boot with another operating system, and focused on getting on the web fast. It's a stripped down Ubuntu (no file management) and uses the simpler Unity desktop. Canonical is offering Ubuntu Light to computer manufacturers only, because it's intended to be customized for specific computers in order to boot fast.
Here's a few other bits of information about the next version of Ubuntu:
Ubuntu Netbook Edition will drop Network Manager for Intel's Connection Manager because Network Manager does not support indicators. This change will probably be included in the Ubuntu 11.04 desktop.
GNOME Shell is for desktops (it will be available in Ubuntu 10.10, but not as the default environment), and Unity is for netbooks.
Client-side window decorations and RGBA (alpha channel) will be added to Ubuntu 10.10 early in development.
More category indicators (like the messaging indicator) will reduce the number of indicators. A sound indicator will hold indicators for media applications and allow interactions like manipulating playlists.
Canonical has a professional font foundry working on a new interface font. When it's ready, there will be a beta program.
A new icon theme is being worked on, but it will take a while to complete and may not be finished in time for the next Ubuntu.
Ubuntu 10.10 will be released on October 10, 2010 (that's 10.10.10).
You can get all the details by watching Mark Shuttleworth's UDS keynote (thanks to Alan Pope for posting the video).
There's an official PPA software source from Canonical with a test version of Unity. Here's how to install it:
Open Ubuntu Software Center.
Select Edit->Software Sources->Other Software.
Click Add, enter ppa:canonical-dx-team/une, and click Add Source.
Search for Unity in the Software Center and install it.
To start Unity, log out to return to the login screen. Select your user, select Ubuntu Unity Netbook Edition in the Sessions box, and log in.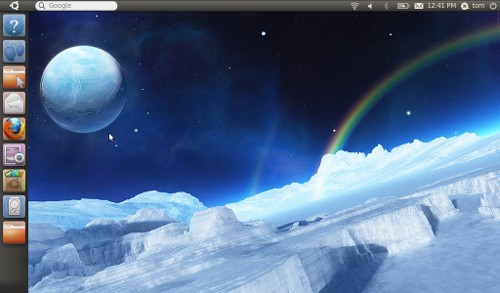 At first glance, it looks like you have the normal netbook edition GNOME panel at the top of the screen, but with a Google search box instead of a window list. There's also a colourful stack of icons on the left hand edge of the screen.
The launcher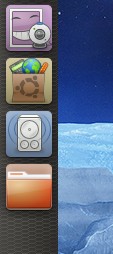 The Unity application launcher is a dock. There are some default applications which always appear. Any application that is running will also appear, along with a small indicator that it is running on the left of the icon. The currently focused application also get a indicator on the right side.
Selecting an icon in the launcher causes it to glow while the application loads. Dragging up and down scrolls the list of applications, and dragging an icon out allows it to be repositioned. Right clicking on an icon initiates a scale effect which lets you select from all the windows for that application. There's no support for minimizing windows.
It's not easy to access applications which are not in the launcher because there's no main menu. One item in the launcher is a folder which will show all the installed applications.
The window manager
Unity uses the Mutter window manager from GNOME 3. It's a compositing window manager and supports some basic animations. At this time the integration between window title bars and the panel has not been implemented. The panel and launcher are run by Mutter, so it won't be possible to use another window manager like Compiz with Unity. [update] A Compiz developer has Compiz working inside Unity, so this may not be true after all.
The panel


Clicking the Ubuntu logo scales all the windows and lets you select one to switch to it. The search box goes to Google for now, but later it should be used to search your computer. Everything else on the panel is an indicator, which the current exception of the network manager applet. Despite it's appearance, the panel is not based on GNOME panel, but is drawn by Mutter.
I'm pretty excited about Unity. While the current version is not complete, it does seem to be in a usable state on my netbook so I'll continue testing it there.
Archived Comments