The Chromium Daily Builds PPA has been keeping me up to date with the latest version of Chromium, the open source browser behind Google Chrome. Google recently released the first official Google Chrome for Linux beta. When I did a fresh install of Ubuntu 9.10, I switched from Chromium to the Chrome beta.
I've been installing the daily builds of Chromium since before the tab bar even worked. A few months ago I left Firefox for Chromium. Since then I've occasionally had bugs with the daily builds, so I'm happy to be using the beta now. The beta has been stable for me so far, and is very complete. Firefox feels sluggish in comparison now.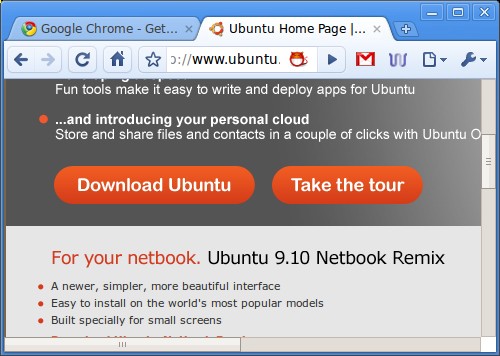 Google makes installing Chrome for Linux very easy. They provide a deb package which will install Chrome as well as add a software source so you can receive updates.
Head to google.com/chrome and click the "Get Google Chrome (BETA)" button. Select the 32 or 64 bit deb package appropriate for your system, read the terms of service, and click "Accept and Install". Open and install the package. Chrome will be added to your application menu under "Internet".
The nifty bookmark synchronization feature, which instantly updates your bookmarks between different computers over XMPP, is missing from this beta. However, I don't think this feature is even in the stable Windows version of Chrome yet.
Extensions are working great, and Google also just opened its extensions gallery. Chrome extensions don't seem to have as much power as Firefox extensions, but they do have the advantages of installing without restarting the browser and updating seamlessly in the background. Here's what I'm using right now:
update: Here's two more extensions. Chris in the comments points out One Number, which combines checking Gmail, Google Reader, Google Voice, and Google Wave into one extension. I also found Autocomplete = on to enable Chrome's password saving even on sites that try and turn it off.
One annoyance I've had with Chrome is that there's no option to open downloaded files instead of saving them. This means my downloads folder slowly fills up with old files I don't need. For now, I'm working around this by setting the default download directory to '/tmp'. If I want to save a download, I can right click on the link and select "Save Link As".
Have you tried Google Chrome? Is it ready to become your default browser?
Archived Comments