Use virtualization software? Check out VirtualBox 2.1, which adds some exciting new features:
Support for 64-bit guests on 32-bit host operating systems. Testing a 64-bit desktop is now much easier thanks to VirtualBox supporting 64-bit guests on 32-bit hosts. It's pretty impressive that this is even possible!
Experimental 3D acceleration via OpenGL. Don't get too excited about 3D acceleration yet. For now only OpenGL on a 32-bit Windows guest is supported. DirectX support is planned, which means that 3D gaming in a VM could become possible.
New Host Interface Networking implementations for Windows and Linux hosts with easier setup. Host interface networking couldn't be easier in this release. No setup is required on the host or guest! This makes yesterday's post on port forwarding though VirtualBox's NAT a bit less useful now that host interface networking is simple to enable.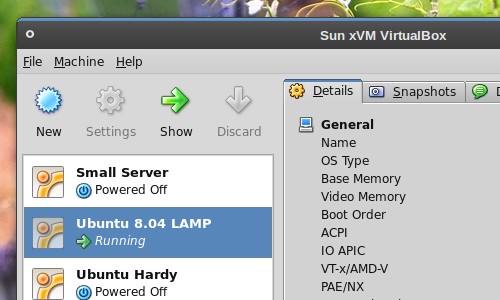 Installing/Upgrading VirtualBox
Even if you already have VirtualBox 2.0 installed using their Ubuntu software repository you'll have to install the new package for 2.1 to upgrade.
If you haven't added VirtualBox's software repository, do so now. Run this command in your terminal to add the repository's key:
wget -q http://download.virtualbox.org/virtualbox/debian/sun_vbox.asc -O- | sudo apt-key add -

Open System->Administration->Software Sources and select the Third Party Software tab. Add the following software source:
deb http://download.virtualbox.org/virtualbox/debian intrepid non-free

Close Software Sources and when prompted, choose to reload the repositories.
If you've got an older version of VirtualBox installed, remove it using Synaptic or by running the command below in your terminal:
sudo apt-get remove virtualbox-ose virtualbox-2.0

Install VirtualBox 2.1 from the package virtualbox-2.1 (click the link to install), or by running the command below in your terminal:
sudo apt-get install virtualbox-2.1

Start VirtualBox from Applications->System Tools->Sun VMx VirtualBox.
Archived Comments