The last time I needed to install Ubuntu on a system without a CD drive, my Eee PC, I created a bootable USB drive to run the graphical installer. The UNetbootin tool I used makes creating the USB system simple, but in Ubuntu 8.10 there's an even easier way.
You'll need:
The USB Startup Disk creator tool. It comes as a part of the default Ubuntu 8.10 desktop. I haven't seen any packages for older versions of Ubuntu yet, but I have have been able to install the 8.10 package in Ubuntu 8.04.
A USB drive or memory card with a minimum of 700 MB of free space.
An Ubuntu CD or Ubuntu CD ISO file.
Launch the USB Startup Disk creator tool from System->Administration->Create a USB startup disk.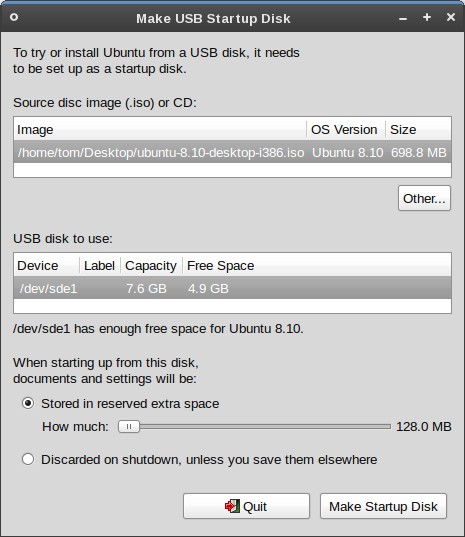 Either insert your Ubuntu CD, or click Other and browse to your ISO file. (If the application doesn't recognize your CD, try clicking Other and then Cancel. This caused my CD to show up.)
Plug in your USB drive or card. The application should recognize the drive immediately and check that there is enough free space. If you have multiple USB drives, select the one you want to use from the list.
Finally, you can choose whether you want your USB system to be persistent between boots, or static like a live CD. Adjust the slider to choose how much space Ubuntu will have on the disk to expand to, or select the Discarded on shutdown option.
Click Make Startup Disk, and wait while the USB system is created. Now you can boot from this drive on any system which supports USB boots.
Booting from the USB drive is just like a CD; you'll have to select Try Ubuntu from the boot menu to load the desktop. If you allocated space for a persistent system, anything you install or change on the system will persist the next time you boot.
I was able to boot my own SD card with persistent Ubuntu 8.10 on my Eee PC. Thanks to Xubuntu blog for pointing out this new utility.
Archived Comments