This guest article was written by Vivek Kumar from TNerd.com, a blog focused on technology news, tricks and tips and Linux tutorials.
Today we are going to see how you can make Ubuntu much more user friendly and add eye candy. We are going to give Ubuntu a Mac OSX like dock and configure it to add applets and launchers to launch applications of your choice. I have done this in Ubuntu 8.10 but I am sure it should work in previous versions as well. The software that brings the Mac OSX like dock to your Ubuntu is called Avant Window Navigator (AWN). Before starting let's see the official description of AWN:
Avant Window Navigator (Awn) is a dock-like bar which sits at the bottom of the screen. It has support for launchers, task lists, and third party applets.
Installing AWN
We will try to avoid using terminal as much as possible. So let's get started! To begin with launch your Synaptic Package Manager by going to System->Administration->Synaptic Package Manager.
Enter your admin password and type in the search box avant-window-navigator. Mark the package for installation that says avant-window-navigator; you'll be prompted to mark some other packages as well (because they are dependencies required for AWN). Also, we are going to install the extra packages mentioned below:
That's pretty much it. Now just click Apply and make sure you are connected to the Internet because some files will need to be downloaded in order to install AWN. Depending on your Internet connection speed it might take a few minutes. Once you have installed all the packages close the Synaptic window.
Launching AWN and adding Applets
Now for the fun part, you can start AWN by going to Applications->Accessories->Avant Window Navigator.
Once you start it, at the bottom of your screen you'll see something like this (if you don't have other applications running):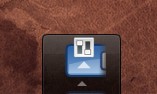 This is quite boring. We are going to pimp this not-so-good-looking dock by tweaking a few things. First off all we are going to add a few applets. You can click the dock awn-manager icon that you see in the image above to start managing how your dock should look. Most of the general setting are self explanatory. Also you can add any of the available applets to your dock.
As of now my AWN looks like this:


I have added terminal, weather, cairo main menu and places applets to my AWN.
Changing the bar appearance to 3D
The default bar appearance in AWN is flat, as can be seen in the image above. However, you can add a lot of eye candy by enabling the 3D look. All you have to do in the awn-manager is go to General and select the tab that says Bar Appearance. In the Look drop down box select 3D look (default is Flat Bar). It'll look something like this:


Adding Launchers in AWN
Let's try adding Firefox as one of the application launchers. In awn-manager select Launchers and click on Add and fill up the details as follows in the launcher editor window:
Name: Firefox Browser
Description: Mozilla Firefox
Command: firefox
You can also change the icon of the launcher (in this case Firefox) to the one that you want by clicking the icon in the left in the launcher editor window and navigating to the location of the icon file. Once you have added the launcher, in order for it to appear, you'll have to restart AWN.
Skinning AWN
Finally all we have to do is change the theme of AWN to make it a little more jazzy. You can search on Google to find themes for AWN or you can go and download some from here. Download the theme that you like and save it. Now in awn-manager click Themes, click Add. Then add the theme by navigating to the location and click Apply.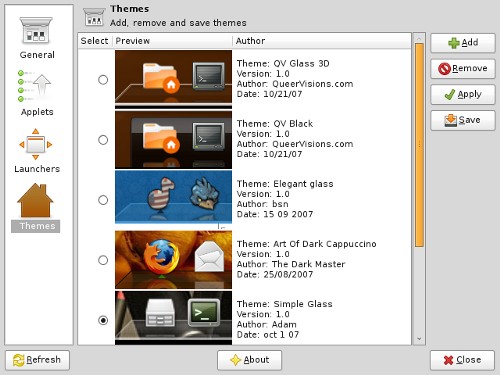 I am sure by playing a little more and changing a few settings you'll be able to make the look of AWN compliment your desktop. Here is how AWN looks on my Ubuntu 8.10:


If you want more tutorials and technology articles like this one, you can subscribe to the TNerd RSS Feed.
Archived Comments