The GIMP image editor, version 2.6, has been released. It includes significant user interface changes, an improved free select tool, new brush dynamics options, and the new GEGL backend. If you're a regular GIMP user, this is a very worthwhile upgrade.
Toolbox windows are now reported as utility windows to the window manager by default. This, along with some other changes, allows GIMP to have a much more Photoshop-like single window interface: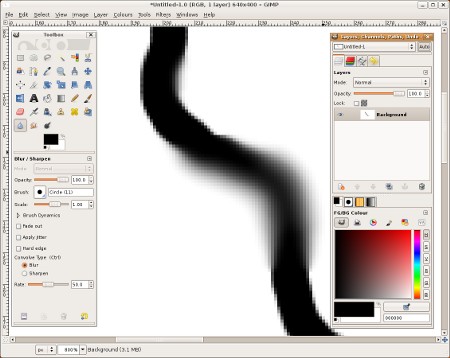 Compiz users will not be able to take advantage of the utility-hinted toolbox windows. Until Compiz supports them (I'm sure I read somewhere that this is being fixed) the toolboxes will act like normal windows. To work around this you can right click on the toolboxes' window title bars and select Always on Top.
A feature freeze exception has been made for GIMP 2.6, so it's now available in Ubuntu 8.10. It's also not difficult to install in Ubuntu 8.04.
Upgrading to GIMP 2.6 requires uninstalling the ubuntu-desktop metapackage due to some conflicts. This is fine as long as you are not going to be upgrading your Ubuntu system to a new distribution release. If you want to be able to upgrade to the next version of Ubuntu, do not continue.
Remove the old version of GIMP from Synaptic or in a terminal:
sudo apt-get remove gimp

Download and save all five GIMP packages from GetDeb. Double-click on the packages to install them, in this order:
libbabl-0.0-0_0.0.22-1~getdeb1_i386.deb
libgegl-0.0-0_0.0.18-1~getdeb1_i386.deb
libgimp2.0_2.6.1-1~getdeb1_i386.deb
gimp-data_2.6.1-1~getdeb1_all.deb
gimp_2.6.1-1~getdeb1_i386.deb
Now you can start GIMP normally, from Applications->Graphics->GIMP Image Editor.
Archived Comments