Have multiple keyboards and mice on your desk? With Synergy, you can seamlessly share one keyboard, mouse, and clipboard between multiple systems. Have a laptop to the right of your main display? Just move the cursor off the right edge of the screen and it will appear on the laptop.
QuickSynergy is a graphical application for setting up Synergy servers and clients. I used it to to share my mouse and keyboard between my desktop and Eee PC laptop. Synergy works flawlessly, even when the laptop is on wifi I can't tell that I'm using a remote mouse and keyboard.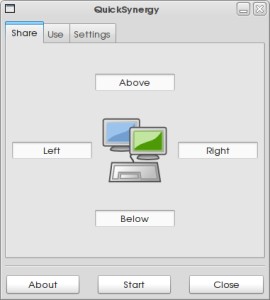 Install QuickSynergy from the package quicksynergy (click the link to install), or by running the command below in your terminal:
sudo apt-get install quicksynergy

Open QuickSynergy from Applications->Accessories->QuickSynergy.
On the Synergy server:
In the Share tab, type the hostnames of the clients (you must specify a hostname and not a IP address) into the appropriate boxes to position them around your main display. Click Start and the server will start (QuickSynergy will close). Open QuickSynergy again if you want to stop the server.
On the clients:
In the Use tab, type the IP address of the server. Select the Settings tab and select the Keep synergy running option so you can close the QuickSynergy window without disconnecting. Click Start to connect.
Tips:
Find your IP address in System->Administration->Network Tools in the Device tab. (You'll need to select your network device from the drop down.)
Find your hostname in System->Administration->Network in the General tab.
Archived Comments