It's easy to set up and use your own own mouse or pen gestures with Easystroke, which can execute custom predefined actions when it recognizes gestures on the screen.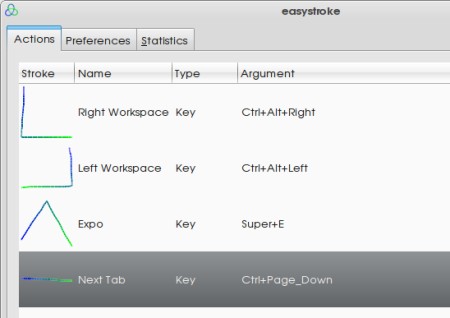 DEB packages for Ubuntu are available from the project's site. Download and install the Easystroke package, and start Easystroke from Applications->Universal Access->Easystroke Gesture Recognition.
To start Easystroke when you log in, add the command easystroke to System->Preferences->Sessions.
Easystroke will start running in your notification area. Click on the icon (which will change appearance to show your last gesture) to open the configuration window.
You'll need to add some actions to start using Easystroke. Click the Add Action button in the Actions tab to do this. A new row will be added to the list of actions, and you will be prompted by an editable text box to enter a name for the new gesture. Type a name, and press enter. Next the Type field will be selected.
There are five types of actions Easystroke can take when it detects a gesture, these are the three most useful:
Command - The Command type can run a terminal command specified in the argument field. This is useful for running applications, or controlling your system via the terminal.
Key - The key type press the key combination specified in the argument field. You can control any application which uses keyboard shortcuts using this.
Scroll - The scroll type emulates a scroll wheel using the cursor. The argument field can be used to specify a modifier key to use at the same time.
Select the type you want, and then enter an argument if needed. Press the Record Stroke button to set the stroke you want to use. Draw the stroke by holding down the middle mouse button and releasing when you are finished.
Once the stroke is recorded, you can test out the new gesture!
I haven't played with Easystroke for very long, but here are a few gestures I think I'll be using heavily (shows with their type and arguments):
Next Firefox Tab - Key - Ctrl+PageDown
Previous Firefox Tab - Key - Ctrl+PageUp
Close Firefox Tab - Key - Ctrl+W
Compiz Expo - Key - Super+E
Next Workspace - Key - Ctrl+Alt+Right
Previous Workspace - Key - Ctrl+Alt+Left
Terminal - Key - gnome-terminal
Monitor Off

Command - xset dpms force off
What mouse gestures do you find useful?
Archived Comments