I purchased a Logitech V470 Bluetooth mouse for use with a laptop with an internal Bluetooth radio. Setting up Bluetooth input devices in Ubuntu 8.04 is easy (there's no command line or config files), but not entirely straightforward.
Where I got confused initially was using the Browse Device option to pair the mouse. This seems to be meant for file transfers only and causes the mouse to disconnect and reconnect rapidly. Here's the correct way to set this up: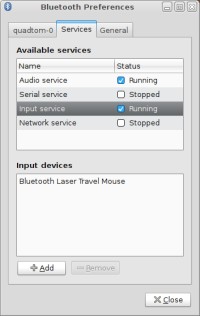 If your system's Bluetooth radio is working, you should have a Bluetooth icon in your notification area. Right click on this icon and select Preferences. Select the Services tab, and turn on Input service if it is not already running. Select the Input service item from the list and click the Add button.
A new window will list all the currently visible input devices. If your mouse isn't visible here, then press the button that makes the mouse discoverable now. (For the Logitech V470, that's the Connect button on the bottom of the mouse.) Select the device and click Connect.
The new mouse should start working immediately. In my testing, the mouse will also automatically reconnect after a reboot.
[update] In Ubuntu 8.10, the Bluetooth utility is much easier to use. To add a new device, left click on the Bluetooth icon in the notification area, select Setup new device, and follow the directions.
Archived Comments