Hamster is a time tracking tool that runs as a GNOME panel applet. With Hamster, you can track what you're doing, when you're doing it, and for how long easily and right from your panel.
Hamster will be included in GNOME version 2.24, and likely also in Ubuntu 8.10.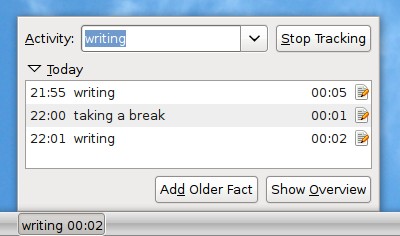 Open System->Administration->Software Sources. Select the Third-Party Software tab. Click Add, and paste in this repository:
deb http://ppa.launchpad.net/hamster.support/ubuntu hardy main

Close Software Sources, and when prompted, choose to reload the repositories.
Install Hamster from the package hamster-applet (click the link to install), or by running the command below in your terminal:
sudo apt-get install hamster-applet

Add Hamster to your GNOME panel to begin using it. Right click on an empty area on a panel and select Add to Panel. Select Hamster from the list and click Add.
After you've added Hamster to your panel, you'll see "No activity". Click on the text to bring up Hamster's activity interface.
Simply type what you're doing into the Activity text box and press Enter to begin tracking it. You'll see the text on the panel change to your current activity and how long you've been doing it. When you're finished, either click Stop Tracking or type a new activity. One useful shortcut is to double click on an item in the Today list to start tracking that activity again.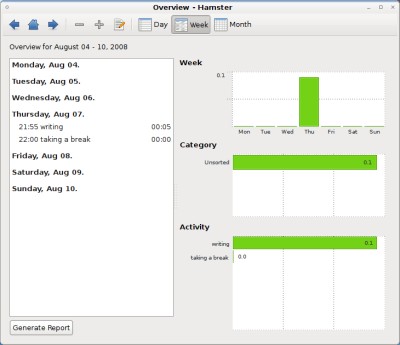 The Show Overview button opens a more advanced interface for editing and analyzing past activities. Clicking the Generate Report button will create an HTML summary of your day and open it in a web browser.
Archived Comments