Launchy is a well-known open source application launcher for Windows. With version 2.1, Launchy has been ported to Linux.
Launchy is a free windows and linux utility designed to help you forget about your start menu, the icons on your desktop, and even your file manager.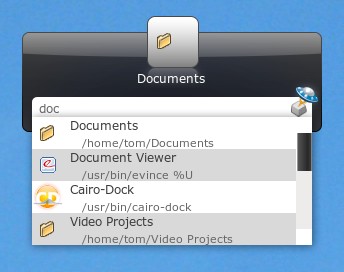 Launchy can be installed from the DEB package provided on the download page.
After installing the package, run Launchy from Applications->Accessories->Launchy. Launchy will appear in the top left corner of your screen. The default key for displaying Launchy while it's hidden is Ctrl-Space.
To start Launchy when you log in, open System->Preferences->Sessions and add a new item for Launchy with the command set to launchy.
Launchy is simple to use. Start typing the name of the name of the application you want, and if Launchy finds it, press enter to run. If Launchy finds more than one option use the up and down arrows to select the one you want.
Access the preferences by right-clicking on the Launchy window and selecting Options. Here's a screenshot of my customized Launchy:

I found a few rough edges in this version of Launchy. Some applications are missing their icons when displayed in Launchy. Items from the System menu are not shown with their user-friendly names; instead of Appearance, Launchy displays gnome-appearance-properties.
The suggestion list does two things I'm not sure are intentional or not. Pressing enter does nothing until I press the down key to select a suggestion, it seems that the first one should be the default. Also, typing anything after the suggestion area has opened closes Launchy.
GNOME Do is another popular application launcher, and probably Launchy's main competition on Linux. I love GNOME Do, and use it every day. It's is more powerful with it's dual-pane view and plugins, but also less simple to use and more resource-heavy. On my system Launchy uses only 6.5 MB of memory, and GNOME Do 20 MB.
If you're looking for an application launcher, or are a GNOME Do user, definitely give Launchy a try.
Archived Comments