GNOME's Totem Movie Player now includes a plugin for searching and playing YouTube videos without leaving the player, and without Flash. It's installed by default in Ubuntu 8.04, and works fabulously!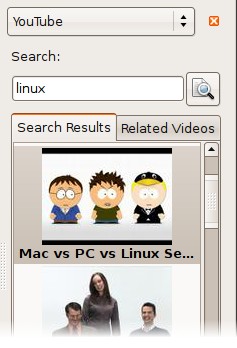 The YouTube plugin needs to be activated before you can use it. In Totem's Edit menu, select Plugins to open the Configure Plugins dialog. Here, enable the YouTube plugin. Close the dialog.
The YouTube browser runs in Totem's sidebar. If the sidebar isn't open, enable it by selecting View->Sidebar. Click the sidebar's drop-down box to select the YouTube view.
Unfortunately, It takes a minute for the plugin to load search results, but this may be an issue with YouTube's API and not the plugin. However, I've found that videos buffer and begin playing almost instantly.
Two features I'd like to see are a download button which encodes the current YouTube video to a convenient format and saves it, as well as an option to use the higher-quality H.264 video that YouTube offers.
There's a modification to this plugin that will play the H.264 video, you can install its package from this page and enable the YouTube H264 plugin the same way. On recently added videos, the H.264 file looks much better.
Archived Comments