OpenOffice.org, productivity suite included in Ubuntu, just released version 2.4. OpenOffice.org 2.4 is a minor release, the last before version 3.0, but it includes plenty of new features and fixes. OpenOffice.org Ninja has a post with screenshots, and The official release notes detail every change and fix.
You may not realize (I didn't until today) that OpenOffice.org 2.4 is in fact already included in Ubuntu 8.04 Beta. It's not mentioned in the Ubuntu release notes, and the about window in still says version 2.3 except in the fine print: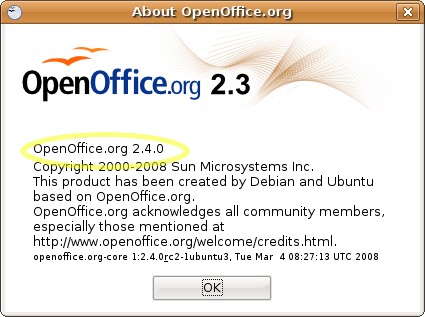 [update] OpenOffice 2.4 final has been added to the Ubuntu 8.04 repositories. It should be updated automatically.
At this time, Ubuntu 8.04's version is actually the second release candidate. I noticed that the new 3D slide transitions are not available in this version. I don't think it will take long before the final release is added to the Ubuntu 8.04 repositories.
Archived Comments