If you run applications that are incompatible with Compiz, 3D games, or find that Compiz is unstable, you probably need to toggle or restart Compiz often. Fusion-icon is for you! It's quickly available from your notification area and allows you to reload Compiz, switch between available window managers and decorators, and change some of Compiz's options.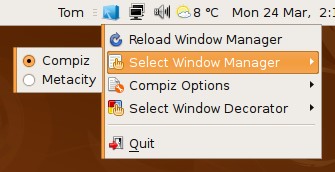 Fusion-icon is included in the Ubuntu 8.04 repositories. You can install it from the package fusion-icon through apt-get or a graphical package manager.
sudo apt-get install fusion-icon

You can run Fusion-icon immediately by opening the Run Applications dialog with Alt-F2 and typing fusion-icon. Note that this will cause Compiz to restart.
To start Fusion-icon whenever you log in, add it to the Startup Programs list in System->Preferences->Sessions.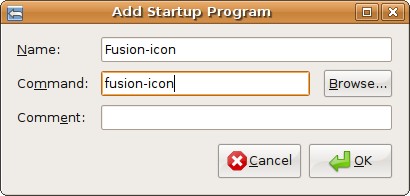 I haven't found a package for Ubuntu 7.10, but those who are waiting until the final 8.04 release to upgrade can also use the similar Compiz-Switch application instead.
[update] emiligene has posted a Ubuntu 7.10 repository for Fusion-icon in the comments:
deb http://ppa.launchpad.net/maco.m/ubuntu gutsy main restricted universe multiverse

Thanks!
[update] An anonymous commenter has pointed out that running fusion-icon -n will prevent the application from unnecessarily restarting Compiz when it starts. You should use this command instead.
Archived Comments