Mozilla Prism is a web browser that allows web applications to be integrated with a traditional desktop and act like native applications. Launching a web app using Prism is done in the same way as launching an application installed on your computer, from the Applications menu. The Prism browser is simplified to not get in the way of the web app.
The integration between desktop and web applications has been taken to the next level in Ubuntu 8.04 Beta; you can now easily install Prism web apps from the Ubuntu repositories.
Nine familiar sites (mostly from Google) are available at the moment, you can apt-get install or use your package manager to install any of these:
prism-facebook
prism-google-analytics
prism-google-calendar
prism-google-docs
prism-google-groups
prism-google-mail
prism-google-reader
prism-google-talk
prism-twitter
Setting up a web app with Prism isn't difficult, so many more convenient packages could be on the way. You can create Prism launchers for your own favorite sites using the official Firefox extension.
The Google Talk package (prism-google-talk) is terrific. I've been using the built-in chat in Gmail instead of a native client like Pidgin. The package uses another Gtalk web interface which is much better than the one in Gmail.
Using Prism, I can launch Google Talk from my Applications->Internet menu: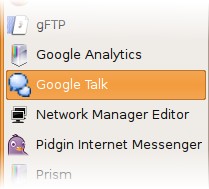 And get a window like this: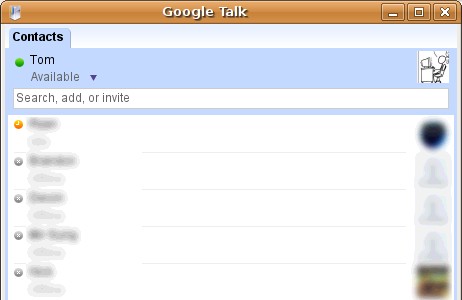 Perhaps Ubuntu should include some web applications installed by default. Anyone else think that offering Google Docs in the Applications->Office menu as well as OpenOffice is a good idea?
This isn't the first time I've written about Prism. Thanks to Derek Buranen for pointing out these new packages.
Archived Comments