Phun is a physics sandbox toy and educational tool. Using its simple tools and powerful physics engine, you can build complex machines or just have fun!
This video should give you an idea of what you can create in Phun:
Phun is not open source, but can be downloaded for free. You will need to have hardware accelerated graphics to play it.
Visit the download page and download the Linux version. Extract the archive anywhere you like, and double click the file phun to run it. No installation is necessary.
[update] GetDeb now has an Ubuntu package for Phun.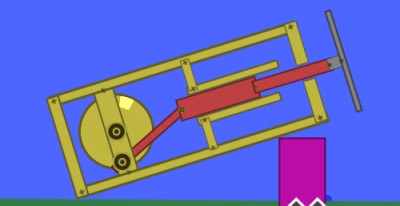 Phun isn't difficult to figure out on your own, but here are some pointers to get you started:
In the options window, select Enable shaders to dramatically improve the graphics.
Click and drag the right mouse button over the background to pan, or over an object to rotate it.
Hinges can do more that let an object rotate on a point. You can set up a motorized hinge that are controlled by the arrow keys. Find these options in the object's right click menu.
Phun includes a fluid simulation! Turn an object to water by right clicking on it and selecting Geometry Settings->Liquefy Selected.
You can load the included scenes from the File->Load Scene menu.
There's a tutorial on the Phun's website that goes over all the tools. Have fun!
Archived Comments