Maarten Lankhorst has posted in the wine-devel mailing list that he has successfully got an iPod to sync with iTunes running on Linux with Wine.
Hi all,

I got an ipod I borrowed to sync: http://www.astro.rug.nl/~lankhorst/ipod.png

There are, however, 3 separate issues to work out for this to work with an unpatched version of wine, minus the patches I sent to wine-patches, and one I still need to confirm with rob.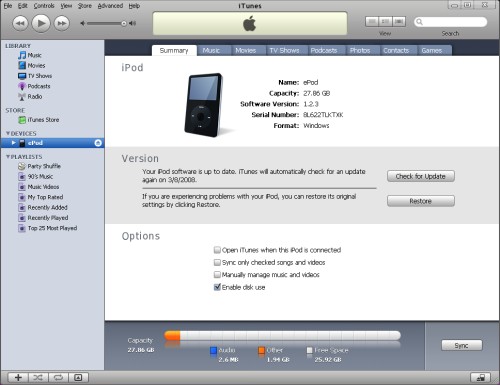 iTunes has been mostly working on Linux with Wine for a while now. This has included playing and purchasing protected files, but not syncing or even recognizing an iPod device.
It's true that there are many open source alternatives to iTunes (such as Amarok and Banshee) that can sync to most iPods. However, the iPhone and iPod Touch have to be hacked before it's possible to sync them with anything other than iTunes. Also, it's not possible to upgrade firmware using software on Linux.
iTunes with iPod support is exciting news for iPhone/Touch users who don't want to rely on Windows, as well as people switching to Linux who aren't ready to leave iTunes. Let's hope this will lead to it being supported soon!
Archived Comments