The first alpha of Kubuntu 8.04 featuring KDE4 has been released.
This is our first alpha for our KDE 4 version of Kubuntu. It comes with KDE 4.0.1 and some applications from KDE 3 to fill in any gaps. As with any first alpha there remains much polishing to be done (you will need to run knetworkmanager manually for example) but it gives a good overview of what will be released with as 8.04 in April.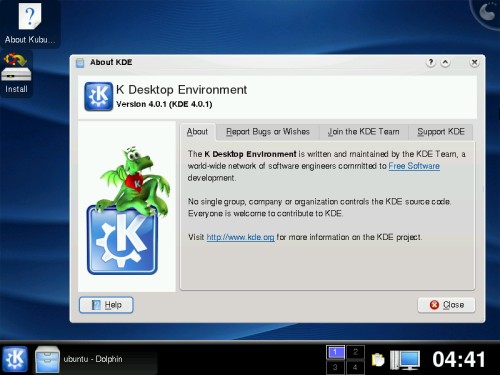 Kubuntu 8.04 KDE 4 will only have community support, KDE 4 will be officially supported in the 8.10 release.
The CD includes the new menu from Ubuntu 8.04 Alpha 5, KDE 4.0.1, and a some KDE 4 and 3 applications. I've found this Alpha to be working a bit better without tweaking than the Ubuntu KDE4 packages I installed in 7.10. However, there are still many rough edges. For example, by default there is no font anti-aliasing at all.
Lots of screenshots are available.
Download an ISO.
Archived Comments