Have you ever used the BitTorrent client that's been included in Ubuntu? It's almost useless. The BitTorrent situation is being fixed with the inclusion of Transmission in Ubuntu 8.04.
Transmission has been built from the ground up to be a lightweight, yet powerful BitTorrent client. Its simple, intuitive interface is designed to integrate tightly with whatever computing environment you choose to use. Transmission strikes a balance between providing useful functionality without feature bloat. Furthermore, it is free for anyone to use or modify.
The newly released alpha 4 of Ubuntu 8.04 has replaced the old client with Transmission. GetDeb has Ubuntu packages for Transmission, although they failed to install on my Ubuntu 7.10 system.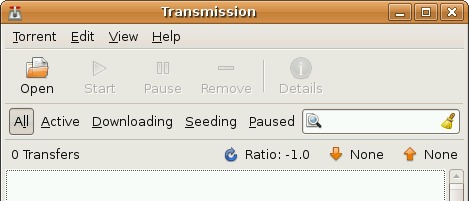 Why Transmission instead of the more popular and feature-rich Deluge client? Transmission is lightweight, uses less resources, doesn't include features that would be overkill for casual users, and has a simpler interface.
uTorrent is very popular Windows client that many even run on Linux using Wine. Windows users moving to Ubuntu would probably prefer the more uTorrent-like interface that Deluge offers. A recent version of Deluge is also available in the Ubuntu 8.04 repositories.
Archived Comments