Ubuntu 7.10 introduced a graphical program for configuring X.org called DisplayConfig-GTK. It can be found in System->Administration->Screens and Graphics. Among changing screen resolutions, monitor types, and drivers, it can handle dual monitors.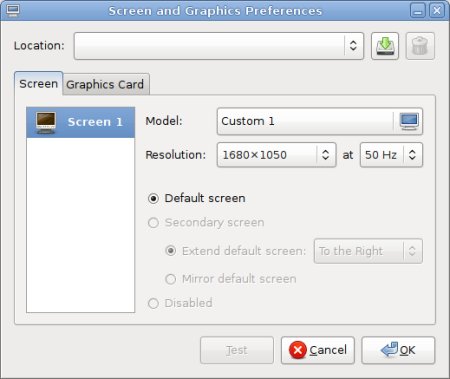 This tool came in really handy for a friend of mine and I. He wanted help hooking up his Ubuntu 7.10 laptop to a projector for a presentation he was to do few minutes. He knew about the dual screen configuration in Ubuntu but wanted some help with it.
The projector was not available in the list of monitors. I chose the generic option for 1024x768. Mirroring the display was the plan, so figured that I should set the laptop's screen to the same resolution. After logging out, the laptop's screen was blank, but the projector was working. Not perfect but good enough.
DisplayConfig-GTK is a little rough but it gets the job done. Without it my friend would have been in trouble; neither of us have ever set up dual screens by editing xorg.conf. Graphical dual (and single) display configuration is a huge step forward for Ubuntu. I hope that by the next Ubuntu release, that the bugs will have been squashed and that it is made a little easier to use.
Archived Comments