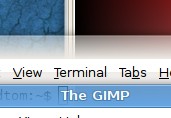 By default Compiz in Ubuntu uses the GTK window decorator. You can adjust the transparency level of the GTK Window Decorator window titles by changing a value in the GNOME configuration editor. Note that this only works if you are using a compositing window manager such as Compiz.
Open the GNOME Configuration Editor: press Alt-F2 to open the Run Application dialog, and type gconf-editor and click Run.
Navigate to apps/gwd in the GNOME Configuration Editor. These are the two values you need to change:
metacity_theme_active_opacity - (Transparently on active window's title.)
metacity_theme_opacity - (Transparently on inactive windows' titles.)

The value you can set is a decimal number, 1 is no transparently, and 0 is invisible.
Thanks to buranen.info for this tip.
Archived Comments