Cheese is an application for taking video and pictures with a web camera. It was inspired by Apple's Photo Booth software, and includes fun effects that can be applied to the video.
I installed Cheese 0.2.4 from GetDeb.net on 32bit Ubuntu Feisty. A 64bit Deb package is also available. Since I started using Linux I have never tried to set up any webcams. It turned out to be easy; both of my old USB webcams worked perfectly with Cheese without configuration. However, a friend's HP laptop's build in camera failed to be recognized by Cheese.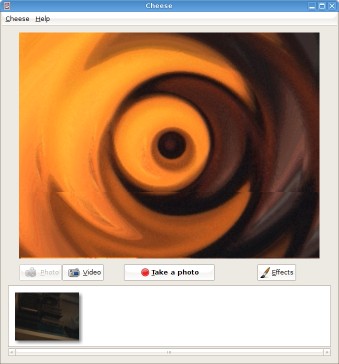 Cheese's simple interface is fairly straightforward to use. It has a handy file manager at the bottom that displays all the photos and videos. They can be viewed by double clicking, saved, or moved to the trash. The effects button brings up a list of effects that can be toggled on and off, and multiple effect can be selected at a time. The only confusing part of the interface is that instead of having "Take picture" and "Take Video" buttons, there are separate modes for each task. Another nice touch is the screen flash when a picture is taken.
Windows and OS X both have support for web cams by default. I think that Cheese is a good candidate for being included in GNOME to bring it similar functionality. If Cheese came installed with Ubuntu, maybe Dell could include a webcam option for their Ubuntu laptops.
Archived Comments