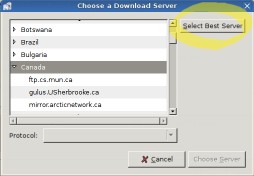 Ubuntu offers you the choice of various repository mirrors around the world. Initially I just chose a server close to me in Canada. But is it really the fastest? A little-know feature in Synaptic can find you the fastest server to speed up your application installs in Ubuntu.
Open the Synaptic package manager. Open the Software Sources screen by clicking Settings->Repositories. Pop down the Download From list and select Other. Then click Select Best Server and a quick test will be run to select the fastest server.
After switching servers I reloaded package information in Synaptic and it was noticeably faster.
Thanks to mypapit gnu/linux blog for this tip.
Archived Comments