Do you use the terminal a lot in Linux? With only Compiz Fusion and Gnome-Terminal you can have a transparent terminal that looks like it is part of your desktop. (See the screenshot at the end of this post.) I found the idea for this over at Ubuntu Unleashed, my instructions here are slightly different.
You need to create a new gnome-terminal profile for the transparent terminal. Create a new profile in Edit>Profiles>New called trans. Edit the new profile and set these options:
General>Cursor Blinks: Off
General>Show menubar…: Off
Title and Command>Initial Title: trans
Title and Command>Dynamically-set title: Is not displayed
Colours>Build-in schemes: Black on White
Effects>Transparent Background: On
Effects>transparency slider>None
Scrolling>Scrollbar is: Disabled
Open the CompizConfig Settings Manager and make these changes:
Make sure the Regex Matching and Window Rules plugins are enabled.
Open the Window Decoration plugin and change the Decoration windows field to !title=trans.
Open the Window Rules plugin:
change these fields to title=trans: Skip taskbar, Skip pager, Below, Sticky, Non resizable windows, Non minimizable windows, Non maximizable windows, Non closable windows, Widget.
Add a new item to the Fixed Size Windows list: Sized Windows = trans, and the width and height that you want for the terminal.
Open the Place Windows plugin and add to Windows with fixed positions list. Positioned windows = trans and set the X and Y coordinates you want the terminal at.
The transparent terminal should start with this command:
gnome-terminal --window-with-profile=trans

I tried to set up the terminal to start when I log in, but ran into a problem. The terminal would load before Compiz Fusion, which causes it to not be positioned properly. I created a script to launch the transparent terminal:
#!/bin/sh
sleep 10s
gnome-terminal --window-with-profile=trans

It delays for 10 seconds, and by that time Compiz Fusion is loaded. Just run the script on login with System>Preferences>Sessions and it should work.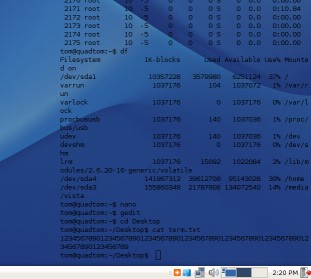 Archived Comments