Google has released the Linux version of their desktop search product, Google Desktop. Unlike Picasa, Google Desktop is a native port to Linux. However, the Linux version does not include all of the features available on Windows and Mac. Google has said that the sidebar and gadgets will be added in a later version.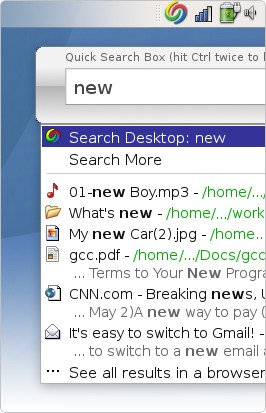 Google Desktop for Linux is based on Google's own desktop search algorithms. As such, it is not an open-source program. A Google representative also said that the program is not built on existing Linux search programs, such as Novell engineer Nat Friedman's popular Beagle search program.
Google Desktop is supported on many Linux distributions.
The first version supports many popular versions of Linux. It comes in the form of both RPM and a DEB distribution packages. The RPM can be installed on Red Hat, Fedora, SUSE, and Mandriva distributions. The DEB will install on Debian and Ubuntu systems. The program works with both KDE and GNOME.
A how-to for installing Google Desktop on Ubuntu is available here.