Wubi is a user-friendly Ubuntu installer that runs in Windows. It installs Ubuntu to a file instead of a partition and modifies the existing Windows boot loader. There is no virtualization going on here, Ubuntu sees the file as a disk and runs normally.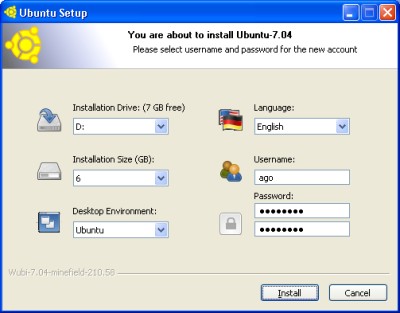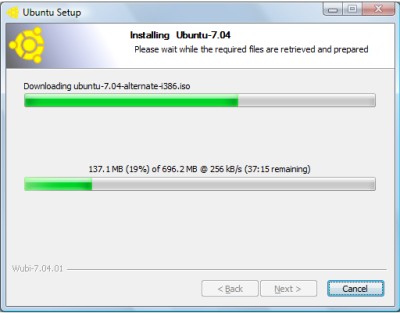 Wubi is an unofficial Ubuntu installer for Windows users that will bring you into the Linux world with a single click. Wubi allows you to install and uninstall Ubuntu as any other application. If you heard about Linux and Ubuntu, if you wanted to try them but you were afraid, this is for you.
Wubi looks like a very useful project, although I am not sure how stable the current beta release is. They are hoping to make it an official part of Ubuntu 7.10. Wubi is open source software.
How does Wubi work?
Wubi adds an entry to the Windows boot menu which allows you to run Linux. Ubuntu is installed within a file in the windows file system (c:\wubi\disks\system.virtual.disk), this file is seen by Linux as a real hard disk.

Is this running Ubuntu within a virtual environment or something similar?
No. This is a real installation, the only difference is that Ubuntu is installed within a file as opposed to being installed within its own partition. Thus we spare you the trouble to create a free partition for Ubuntu. And we spare you the trouble to have to burn a CD-Rom.
Wubi can be downloaded from their SourceForge site.
Archived Comments