Since I switched to Ubuntu, I have used gtkPod and a podcatching script to sync podcasts to my second generation iPod Nano.
Floola is a free, cross platform iTunes replacement. Floola is only a single executable and ran on my Ubuntu 7.04 without needing any dependencies to be installed. I actually put Floola on the iPod's drive so it is always available. Floola can probably do everything you need, including playlists, artwork, video, notes, podcasts and of course music. The interface is easy to use and looks good.
Floola's great podcast manager makes downloading podcasts as easy as subscribing and checking the episodes you want. Episodes are downloaded directly to the iPod and multiple episodes can downloaded at once. Floola even detects when you copy a URL and offers to subscribe to it as a podcast. Unlike gtkPod, Floola has no delay when writing the iPod database, and shows which podcast episodes have been listened to. If you use your iPod for listening to podcasts, Floola is much better than gtkPod.
The main disadvantage to Floola is that it is not open source, and it will nag you to donate occasionally. Floola is beta software, but I did not run into any major problems or crashes.
If you are not happy with your current solution for syncing your iPod, give Floola a try.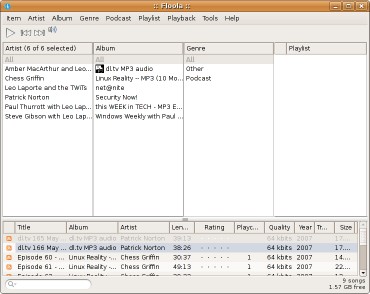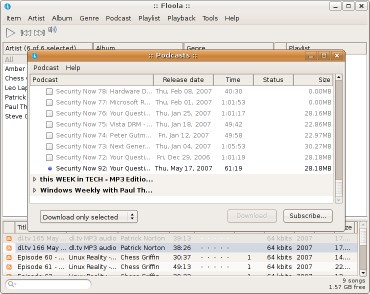 Archived Comments