Another one of my favorite Windows-only games is working great in Linux. Today's post will tell you how to install SimCity 4 and the Rush Hour expansion pack in Ubuntu. This was done with wine-0.9.34, Ubuntu 6.10, and with an ATI X300 SE graphics card.
I used all the same Wine settings for Simcity 4 as I did in my previous post about Guild Wars. Set these settings in winecfg:
Windows version: Windows XP
Emulate a virtual desktop
Vertex shader support: Hardware
Allow pixel shader
ALSA audio driver
Audio hardware acceleration: Full
I also added these strings to the Wine registry under HKEY_CURRENT_USER\Software\Wine\Direct3D. Use regedit.exe in your Wine directory to add them. These registry changes are for improving performance, so this step is optional.
"DirectDrawRenderer"="opengl"
"OffscreenRenderingMode"="backbuffer"
"opengl"="enabled"
"RenderTargetLockMode"="auto"
"UseGLSL"="disabled"
"VideoMemorySize"="256"
Wine is now ready for Simcity 4. Copy the two SimCity 4 install disks and the Rush Hour install disk to separate folders on your hard disk. Launch the SimCity 4 installer from the first folder with Wine. The progress bar does not work so just wait until it prompts you to insert disk two. Then, rename the first install directory to something else. Rename the directory containing the second disk to the original name of the directory the installer is running from. This tricks the installer into thinking the disk was changed.
When the install finishes, it will attempt to start SimCity, which will fail because of the copy protection. We are not going to fix that yet. First we need to install Rush Hour.
Launch the Rush Hour installer from your folder on disk. This time the progress bar works. When the install is finshed SimCity will try to start and fail. To make it work you need a cracked SimCity 4.exe that skips the copy protection. Make sure the executable you use is for the retail (unpatched) version of SimCity 4 Rush Hour. Once you replace the old executable with the cracked one, you need to run it like this: wine SimCity 4.exe -d:software.
And that is it! The only problem I have encountered while playing is a few small graphical glitches while using the query tool. The game seems to run at about the same speed as it did in Windows.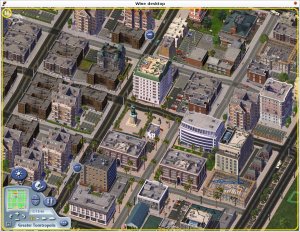 Archived Comments