[update] OpenOffice 3.0 has been released. See this post on installing it in Ubuntu.
OpenOffice 3 should be released in time to be included in Ubuntu 8.10, but you can try the recent release candidate right now in Ubuntu 8.04 (or another Debian-based distribution) without disturbing your existing version of OpenOffice (you can even run both versions at the same time).
OpenOffice 3 adds updated ODF format support, Microsoft Office XML format support for reading, chart enhancements, a new start center, improved notes in writer, spreadsheet sharing, enhanced PDF support, and more.
[update] I've updated this post for installing release candidate 2.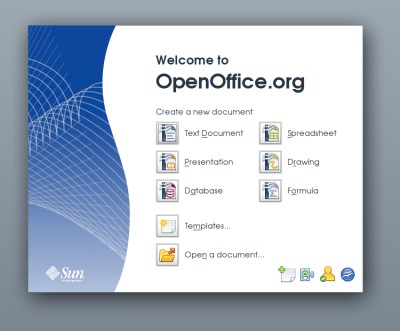 Head to the download page and select the Linux (deb) or Linux 64 bit (deb) download. Decompress the archive to your desktop.
Installing OpenOffice requires installing a large number of DEB packages. It's easiest to install them using the terminal. Open a terminal, switch to the directory where you decompressed the download to, and install all the packages at once:
cd ~/Desktop/OOO300_m7_native_packed-1_en-US.9354
sudo dpkg -i DEBS/*.deb
That will not have added you any Application menu items. You can create one yourself using the menu editor (System->Preferences->Main Menu). Menu icon graphics are available in /usr/share/icons/hicolor/48×48/apps. Launch OpenOffice with this command:
/opt/openoffice.org3/program/soffice
You can delete the download from your desktop after the installation.
Want to remove OpenOffice 3? I've compiled this huge command (it's all one line) to remove all of the OpenOffice 3 packages:
sudo apt-get remove ooobasis3.0-base ooobasis3.0-binfilter ooobasis3.0-calc ooobasis3.0-core01 ooobasis3.0-core02 ooobasis3.0-core03 ooobasis3.0-core04 ooobasis3.0-core05 ooobasis3.0-core06 ooobasis3.0-core07 ooobasis3.0-draw ooobasis3.0-en-us ooobasis3.0-en-us-base ooobasis3.0-en-us-binfilter ooobasis3.0-en-us-calc ooobasis3.0-en-us-draw ooobasis3.0-en-us-help ooobasis3.0-en-us-impress ooobasis3.0-en-us-math ooobasis3.0-en-us-res ooobasis3.0-en-us-writer ooobasis3.0-gnome-integration ooobasis3.0-graphicfilter ooobasis3.0-images ooobasis3.0-impress ooobasis3.0-javafilter ooobasis3.0-kde-integration ooobasis3.0-math ooobasis3.0-onlineupdate ooobasis3.0-ooofonts ooobasis3.0-ooolinguistic ooobasis3.0-pyuno ooobasis3.0-testtool ooobasis3.0-writer ooobasis3.0-xsltfilter openoffice.org3 openoffice.org3-base openoffice.org3-calc openoffice.org3-dict-en openoffice.org3-dict-es openoffice.org3-dict-fr openoffice.org3-draw openoffice.org3-en-us openoffice.org3-impress openoffice.org3-math openoffice.org3-writer openoffice.org-ure
Enjoyed this post?
Subscribe to Tombuntu's RSS feed.
Related Posts