Ubuntu 8.04 "Hardy Heron" Beta has been released, you can get it by downloading a ISO disk image, or by upgrading Ubuntu 7.10 or any of the alpha releases. In this post I'll just be writing about my experiences with the beta since installing it.
Once the beta was out, I was ready to install it on my computer as my main OS (the alphas were pretty stable, but there have been some major bugs). I wanted wipe out all the bits of software I've installed that have been building up since I installed Ubuntu 7.10. So I opted for a clean install. If you don't have a separate home partition now, think about setting your system up with one. It makes doing a clean install painless.
The live-CD detected my widescreen monitor's resolution correctly with the 2D "nv" driver. The install went fine, although I noticed that the timezone selector map has been changed so it's difficult to select or see the cities. The install also went quickly, only taking seven minutes to copy files and configure the new system while I browsed in Firefox.
The installed system boots from the boot menu to the login screen in 30 seconds on my recent desktop PC. Once I logged in, my desktop looked exactly the same as in the old installation because I had kept the same user from my home directory. I moved all the hidden dot configuration files into another folder so I could use the new default desktop.
I have a Nvidia Geforce 8600GT-DDR3 graphics card. With Ubuntu 7.10, I had to manually install the driver because the one in the repositories was out of date. With this beta, after my first login I was asked if I wanted to enable the proprietary Nvidia driver. After it installed and I rebooted, Compiz started up and worked flawlessly.
The default theme is Human-Murrine, which hasn't grown on me. I do like the heron wallpaper and matching login screen, as well as the subtle orange shadow behind windows. There's also a cool zooming effect when using application launchers with the GNOME panel.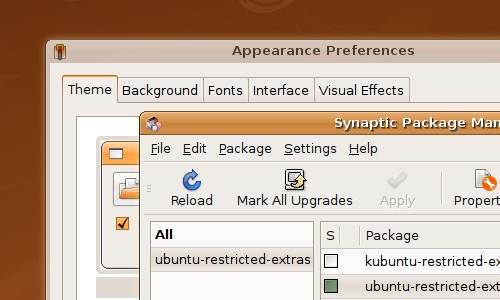 There's a new clock applet (intlclock) that can display a map with the time in multiple locations and the weather. When I set it up with my location, the clock put the map marker in the center at the coordinates 0 , 0. If you don't enter coordinates for a location (it's marked as optional in the dialog) the map marker will be displayed in the center of the map. It would be nice if it could guess a location's coordinates using a web service or just from the timezone.
I used the package ubuntu-restricted-extras to install audio/video codecs, DVD playback, Java, Flash, and fonts. I am enjoying the latest version of Flash which has GTK and fullscreen support. However, the Java plugin that gets installed doesn't work in Firefox 3.
I ran into two more minor bugs. By default, mousing over an audio file will begin to play a preview of it. The problem is, I deleted a file while this preview was going, and it wouldn't stop. The AptURL handler, which lets you install packages via links in Firefox, seems to be broken in Firefox 3.
Ubuntu 8.04, even the beta, is an exceptional release. I got my system nearly perfectly set up without any command line work or significant issues. If you've been considering installing and testing the Ubuntu 8.04 Beta, go ahead and it will likely work just fine.
Enjoyed this post?
Subscribe to Tombuntu's RSS feed.
Related Posts