PCLinuxOS, a free Linux distribution founded in October 2003, is quickly rising in popularity. On Distrowatch, for the last 7 days PCLinuxOS has even exceeded Ubuntu's hits. Could this be an indication that PCLinuxOS could overtake Ubuntu in popularity in the future?
PCLinuxOS is distributed as a LiveCD, and can also be installed to a local hard drive. LiveCD mode lets you try it without making any changes to your computer. If you like it, you can install it to your hard drive. Locally installed versions of PCLinuxOS utilize the Advanced Packaging Tool (or APT), a package management system (originally from the Debian distribution), together with Synaptic, a GUI frontend to APT.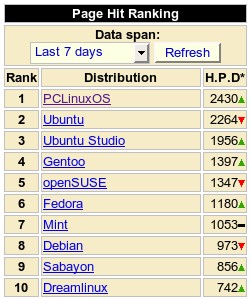 Enjoyed this post?
Subscribe to Tombuntu's RSS feed.
Related Posts